Calling early-career furniture, lighting, and object designers!
Entries are now open for vivid design competition 2021 // Entries close May 2nd.
Open to professional designers who have been practicing for less than 5 years, and current students at Australian tertiary institutions.

For the sixth year, we are proud to support the 18th edition of vivid, Australia's most prominent springboard for emerging furnishing & object designers who are seeking industry connections, recognition, and importantly, exposure and feedback.
Curated and produced by Daniel Dalla Riva from design agency Latitude, an exhibition of work by all finalists will be held in conjunction with Decor+Design, in Melbourne this July.
As an event sponsor, the AUTHENTIC DESIGN ALLIANCE® Award of Merit will be presented for innovation and originality.
The platform is renowned for unearthing the next crop of Australian furniture, lighting, and object designers. Previous winners include Lab de Stu (Dale Hardiman, Adam Lynch AKA Dowel Jones with Andre Hnatojko one-half of LAAL design studio) and Adam Markowitz, Markowitz Design.
Check out last year's winners here
Read more about vivid 2020 finalists here // follow @vividdesigncomp
VIVID attracts more than 12,000 interior design professionals, retail buyers, industry heavyweights, and of course media.
This year's vivid event is supported by design industry leaders that include Laminex, Architecture Media, Artichoke Magazine, Rakumba, Houzz, Authentic Design Alliance®, and the Design Institute of Australia.
Award categories include market-ready products, prototypes, and concept designs for furniture, lighting & objects. Entry is open to professional designers who have been practicing for 5 years or less, and tertiary design students.
The judging panel features prominent and respected figures from across our design industry, ensuring that a robust and thorough judging process upholds the vivid comp legacy.
Key Dates:
Applications Close //2nd May 2021
Shortlist Announced // 17th May 2021
Finalists Announced // 4th June 2021
Live Judging & Award Presentation // 15th July 2021 (on-site at the vivid finalist exhibition)
Finalist exhibition // Decor+Design, Melbourne Exhibition Centre, 15th-18th July 2021
A lucrative prize pool includes cash prizes and coveted opportunities that can include valuable media exposure, essential industry feedback, and networking opportunities, along with pivitol connections with buyers and manufacturers, and educational programs.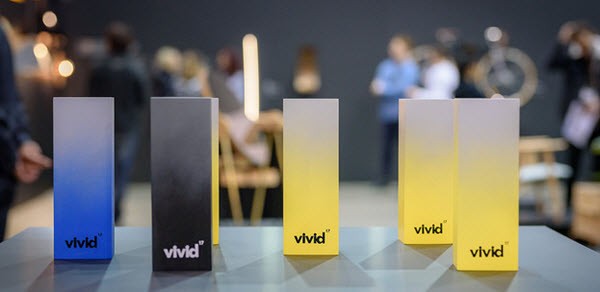 ENTRY & JUDGING CRITERIA:
VIVID is open to products that are designed and made in Australia, and are less than 18-months old. Judging will be determined on the following criteria.
Innovative
Of the highest professional manufacturing standard and finish
Apply sustainable design principles and materials
Full-size products
Products must be no larger than 2m wide and 2m deep
Lighting and other designs, if powered, products must have test and tag certification to be exhibited and have a minimum 1.2 flex cord (3m preferred) with a household plug
ENTRY IS OPEN TO:
VIVID is open to full or part-time design students currently enrolled in an Australian tertiary design course or professional designers who have been in business for less than five years.
Current residents of Australia
Designers who are willing to personally attend and freight their product to Australia's premier interiors event, Decor + Design in Melbourne, 15th – 18th July 2021.
AWARD CATEGORIES:
Furniture Design and Lighting Design Categories
Market ready furniture products designed for the built environment including chairs, stools, tables, cabinets, shelves, screens, beds, sofas, floor standing coat racks, side tables, coffee tables, and storage units
Finished products
New release; products no older than 18 months
Products may have been previously shown in the Australian Market
Must be for sale and ready in small or large production runs
Object Design
Market ready functional and/or decorative products and accessories designed for the built environment including but not limited to textiles, mirrors, bowls, plates and platters, bottle openers, vases and vessels, utensils, stationery, and stationery holders, candelabra, umbrella, hat, and coat hooks, clocks, salt, and pepper grinders, graters, wall art/sculpture, wastebasket or bin, bookends, etc.
Finished products
New release; products

no older than 18-months

Products may have been previously
shown in the Australian Market
Must be for sale and ready in small or large production runs
Concept Design
Includes all details above.
Debut designs and products must not be older than 12 months and not be previously exhibited in Australia.
Colour Award
Judged by industry figureheads in colour and trend forecasting, the 2021 VIVID Colour Award will recognise and reward Australia's emerging furniture, lighting, and object designers for their imaginative use of colour.
Eligibility: To be eligible for this award your design may be either a Finished Product that is market-ready and/or has been for sale for no longer than 18 months or a Concept presented as a prototype or finished product created within the last 12 months.
Judges Choice Award
The winners of the Furniture, Lighting, Concept, Object, and Colour Award categories will automatically be in the running for the pinnacle award of VIVID 2021 – the Judges Choice Award, presented by Laminex. The winner will be selected by the judging panel and announced at the Awards Presentation.
AUTHENTIC DESIGN ALLIANCE

®

Award of Merit
Authentic Design Alliance is a member-based education platform supporting original design products, committed to eradicating 'design theft,' and advocating for improved Intellectual Property (IP) protection for Australian design practitioners, aligned to the EU.
Authentic Design Alliance is committed to promoting innovation for original furnishing designs.
To encourage and applaud new methods of fabrication, materiality, user-functionality, and design forms that retain relevance, the ADA® Award of Merit has been created to recognise design innovation and excellence.