How Americans fight knockoffs!
Knock-offs are a huge problem the Americans take seriously. Now independent and emerging designers join heritage manufacturers in the fight against the copied designs, despite the costly and time consuming battle to protect their own work.
This meaty article published by Surface Mag this week delves into how border protection and education help stem the ever-increasing problem of counterfeits flooding the home furnishing market, and how chain stores fuel the replica / knockoff industry.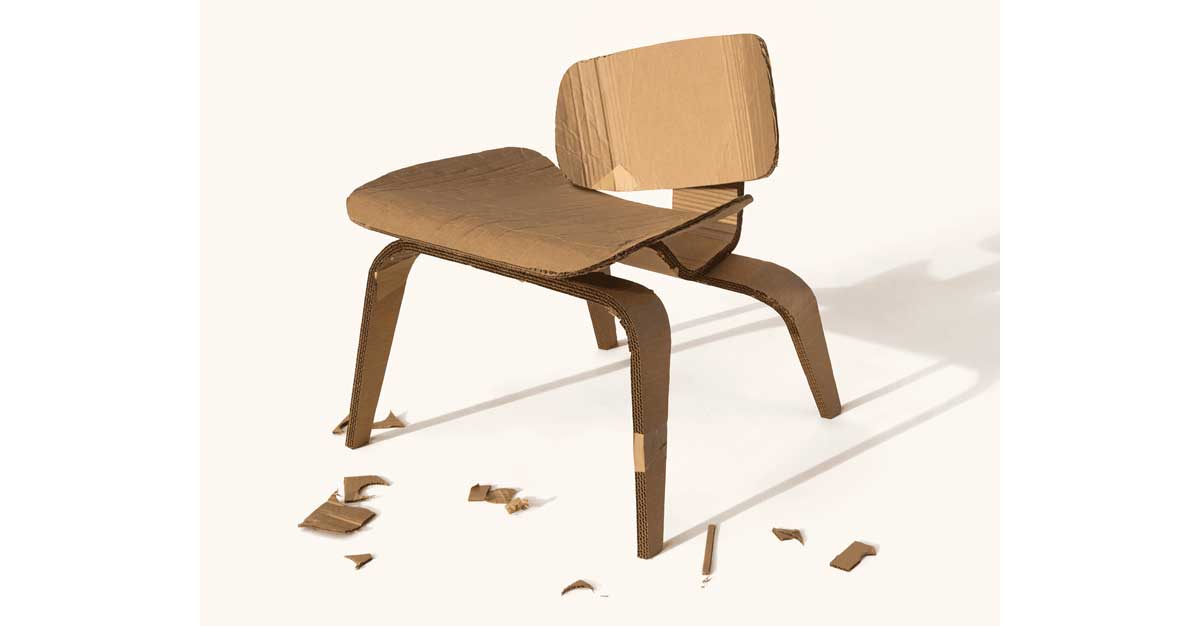 What counterfeiting really means for designers, customers, and collectors.
Illustration by Derek Brahney
Text by Angela Serratore © Surface Mag
So you want to buy a chair.
One of the most famous chairs ever produced, maybe. One that hardly needs an introduction: the Eames lounger. Designed in 1956 by Charles and Ray Eames, it debuted on no less prominent a stage than the Today show. Maybe you saw one in a movie, or in a catalogue, or even in the flesh, exuding quiet luxury in the corner of the most well-appointed living room you've ever set foot in. I need that chair, you think, so you navigate to the website of Design Within Reach, the largest U.S. distributor of products made by Herman Miller, the chair's authorized manufacturer. You spend a leisurely 20 minutes customizing the chair to your exact specifications, feeling secure in the knowledge that this roughly $5,000 design will be something you sit in for the rest of your life.
Or: maybe not. Maybe, in an attempt to see what's out there, you find yourself on a message board hosted by the home design website Houzz, reading through hundreds of reviews. Reviews, that is, of fake Eames loungers. "The bottom line, at least for me, is that the chair represents the absolute best quality reproduction currently available that is a near EXACT replica to the original design in both appearance and comfort," writes one satisfied customer.
A few commenters tentatively suggest searching for an authentic Herman Miller Eames on eBay or through a local used-furniture business, posting once a year or so a link to Design Within Reach's annual sale (the forum in question dates back to 2014 and is still, at the time of this writing, active with new reviews and questions). "Glad to know some of YOU still have 4–5k disposable income for a CHAIR!" an anonymous user shouted in reply in 2016. Most everyone on the forum concurs: Why spend $5,200 when you can spend $2,000? Why not save instead of splurge?
But companies like Design Within Reach, Vitra, and Herman Miller say that, for them, knockoffs come with a higher price. They point to the time, money, and energy required to fight imitations of their work—litigating against mass retailers with deeper pockets, educating the buying public, training government officials at ports and borders. For heritage brands, the resources to support these initiatives are difficult to come by; for smaller independent or emerging designers—many of whom are at risk of being put out of business entirely by imitations—they come in an even shorter supply. More than just hurting the manufacturer's bottom line, knockoffs, the argument goes, threaten the industry as a whole, and with it, the future of design itself.
In some corners, however, all of that is up for debate. Does stopping knockoffs really create new opportunities for designers? How about for consumers? Isn't this just a tactic that perpetuates the idea that when it comes to good taste, only those who can afford it can have it? Does equating "good, ethical, authentic design" with a handful of high-end furniture brands actually push the industry forward? Or is it just another way in which the industry positions itself as a gatekeeper to the world of exceptional design? And if this is really about protecting authenticity, is spending finite resources on combating counterfeits really the best answer? Or is it an unwinnable game of whack-a-mole that keeps a holistic solution perpetually out of reach?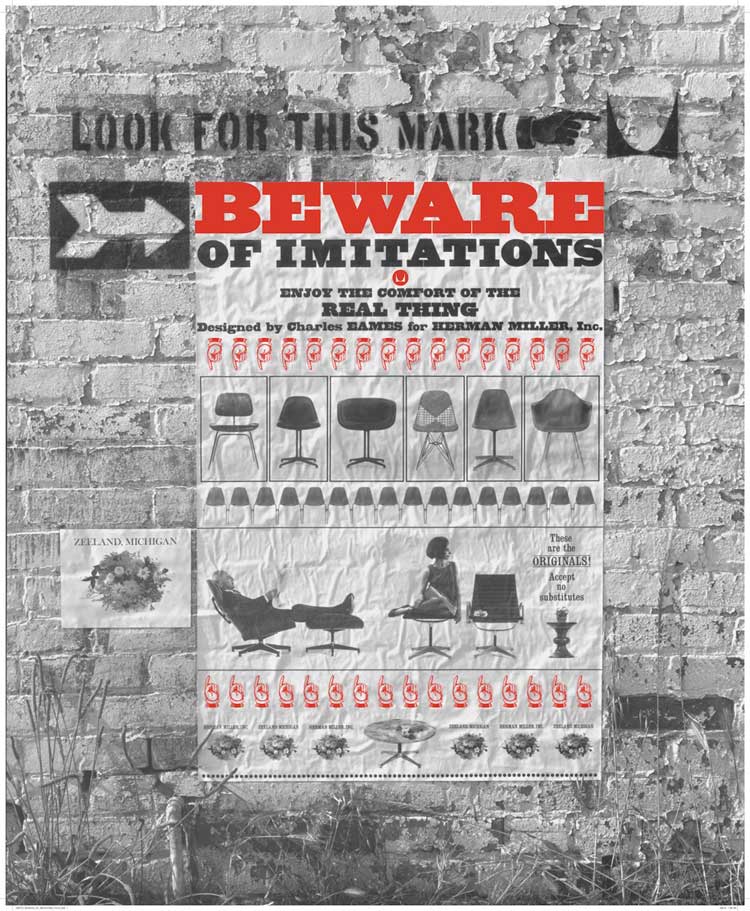 Archival poster warning of Herman Miller knockoffs. (Image: Courtesy Herman Miller)
For decades, litigation was a brand owner's primary method of combating counterfeits, but it's not cheap, and it's not easy. For one, mass-market retailers like Restoration Hardware and Crate & Barrel, both of whom have been accused of selling knockoffs, have deep pockets and in-house lawyers on their side. And, as the knockoff market has shifted toward a primarily online existence, it's easier than ever for infringing operators to evade pursuit by simply changing their names. Shut one website down and another takes it place hours later.
In 2012, Be Original Americas, an advocacy organization founded to raise awareness of knockoffs and their impact on the design industry [full disclosure: Surface is a media sponsor of the group], began to suggest another path forward. Instead of turning to the courts when knockoffs—most of which are made in China and come to the U.S. via ports on both coasts—appear for sale, why not try to stop them from hitting the market at all?
With help from U.S. Customs and Border Protection, brands have the chance to stop counterfeit goods at more than 300 points of entry, preempting the need for expensive, time-consuming litigation by relying on structures the government already has in place to combat the importation of fakes. But this process comes with its own barriers to entry, and it, too, can be arduous and confusing.
Customs agents are largely generalists, and aren't necessarily looking for knockoff furniture specifically, says Debra Peterson, a lawyer and former Customs official. Once a brand registers and then records its trademarks with CBP, which, in the case of furniture companies, is often based on the shape or design of the product, it can begin—if it has the resources—to conduct trainings. This means turning the whole of a brand's history into a digestible PowerPoint presentation and delivering it, in person or by broadcast, to officials around the country.
For Gregg Buchbinder, who owns Emeco, the producer of the practically ubiquitous Navy chair, the training sessions conducted by his company are relatively simple: "We make it here in Hanover, Pennsylvania," he says, so any chairs arriving at a port in a shipping container from China can be assumed to be fake. These get seized immediately and are taken to a separate facility where they wait for a possible petition from the importer. If no petition arrives, or if CBP denies one that does, then the items will be destroyed.
But for companies that manufacture a wide variety of products overseas, like Vitra, headquartered in Weil am Rhein, Germany, the key is, to borrow a phrase from Charles and Ray Eames, doing the best for the most with the least. "It's up to us to really make this training as intuitive, and as simple and effective as possible," says Adrian Parra, head of marketing at Vitra North America. A brand might walk agents through photos of its most knocked-off products or encourage agents to look for specific signature marks or details. Or it might, as Parra does with his training materials, point out warning signs that suggest infringement—subtle shifts in structure or material, or colors or finishes not listed in a company's official catalogue.
The 2017 Customs report, which specifically champions its agency's focus on "iconic, midcentury, modern design home and office furniture," notes that, for the second year in a row, seizures of fake furnishings have increased. With 38 confiscated shipments in all, the agency estimates the market value of the fakes at more than $15 million had they been taken as genuine, up from $4 million in estimated value the year before. It also directly links its work to the preservation of 8,000 American jobs. (Early in our reporting, U.S. Customs and Border Protection was enthusiastic about giving us access to its facilities and process in New Jersey. Two weeks later, we received an email saying that they "DO NOT get counterfeit furniture" at any of their locations.)
As Buchbinder recently explained to a room full of students at Brooklyn's Pratt Institute, one of the top schools for training new furniture, lighting, and homeware designers in the United States, fighting knockoffs takes time and money, and every hour or dollar spent on one thing means another gets less.
Still, seizures rarely stop manufacturers from continuing to make and sell fake products, and the sheer volume of their import makes it an accepted fact that plenty of counterfeit pieces are still making it past the border and onto the market. So what then?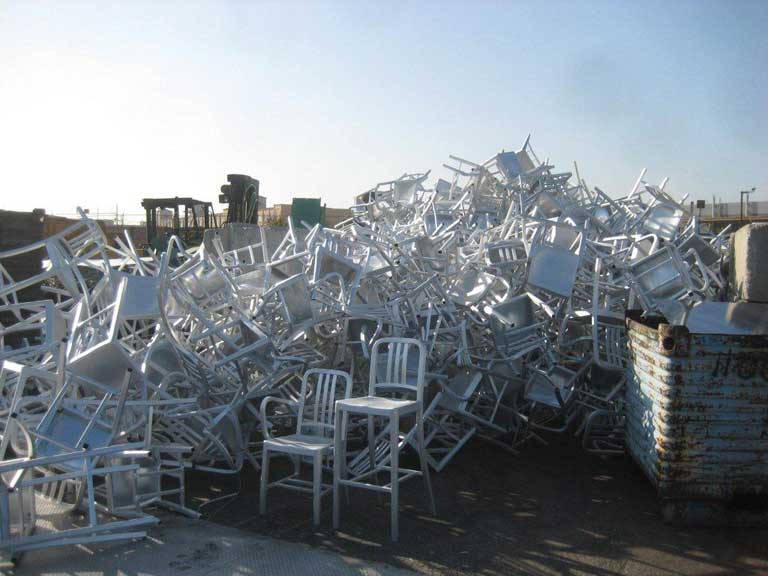 Seized counterfeit Emeco Navy chairs awaiting incineration and recycling. (Photo: Gregg Buchbinder)
"Listen, if the consumer has set out to buy a knockoff, I can't control what the consumer does," says John Edelman, the CEO of Design Within Reach and the new president of Be Original Americas. "That's not going to be my consumer ever anyway. And if the argument is that they want to buy a knockoff, we're gonna lose." While Edelman acknowledges that fighting knockoffs does fundamentally benefit rights holders—"we're a capitalist nation protecting the companies," he says with a laugh—he does point to the plight of purportedly confused consumers: "It's not nice to get your money stolen, and it's not nice to buy something you thought was authentic, and you go home and it breaks, or you go try to resell it and it has no value." Edelman and Buchbinder also point to the rise in ethical consumption. It's not just that knockoffs might be made with unsafe or unfair labor practices, but also that knockoffs, even expensive ones, simply aren't made to last forever. One good chair, they postulate, might be worth six shoddy ones.
The people Edelman sees as key to the war against knockoffs are customers who purchase items they don't know the provenance of. It's an increasingly common problem in a world in which midcentury modern pieces have become so much a part of cultural history that to even think of them as protected designs might seem ludicrous.
Herman Miller archivist Amy Ascherman would agree. She suggests that, while the rise in interest in midcentury modern design is, of course, a boon to the company, some pieces become so much a part of our design vocabulary that a shopper might not stop to consider their lineages. "If somebody saw an Eames chair, they wouldn't know who made it or maybe even who the designer was," she says. "A lot of it is so ubiquitous, or is part of the visual landscape, that you have people who see a Shell chair, and they're like, 'Oh yeah, that was in my cafeteria growing up. I didn't know that was significant.'"
But to expect the consumer to do their homework before every purchase is a big ask. It also assumes they know to do it. While some portion of shoppers may be guilty of deliberately looking for a less expensive alternative to the real thing, plenty of others are simply in search of something that "just looks nice." The rhetoric online can be tricky for the average consumer to navigate. While the descriptions of some knockoffs come with cues like "replica" or "inspired by," tipping off one breed of customer that there's an original out there, others make only a glancing reference to their progenitor. Look to the "Barca chair," currently for sale on AllModern.com—a near dead-ringer for Ludwig Mies van der Rohe's Barcelona chair produced by Knoll. One of the many knockoffs the site features confusingly claims its infringing product is an "icon of the modern design," then describes its creation as "a tribute to traditional craftsmanship." Mies's name or Knoll's logo is nowhere to be found. (AllModern is part of the Wayfair group, an online home décor and furniture retailer that owns several sites often cited by brands as peddling counterfeits. When reached via email, a PR representative from Wayfair declined to comment.)
"When most people look at a pretty chair, they see a pretty chair, and not a chair that they recognize as originating with any particular supplier," says New York University law professor Christopher Sprigman, who, along with UCLA law professor Kal Raustiala, wrote the book The Knockoff Economy: How Imitation Sparks Innovation. For them, the whole knockoff-versus-original argument is one that is essentially elitist, concerning only those who can afford to care about where the items that decorate their home come from.
In 2012, Emeco filed suit against Restoration Hardware for selling a knockoff of the Navy chair, which the store had featured in its stores and catalogues as a "naval chair." In an essay about the lawsuit on the website Slate, Sprigman and Raustiala argued that Emeco was in the wrong, legally and ethically: The idea that an affordable version of a classic chair shouldn't be accessible, they suggested, is a one-percenter's argument. "More broadly, why should only the wealthy be entitled to have good design in their houses? No one really needs a chair in his dining room built to withstand a torpedo hit," they wrote. "Perhaps if Emeco was concerned about knockoffs it could have made a less expensive version before Restoration Hardware did." (Restoration Hardware did not respond to our repeated requests for comment.)
Raustiala points out that most arguments against knockoffs ignore the fact that consumers and producers have different goals: "One of the big problems with discussions of IP [intellectual property] in almost any field is that the voice and interests of the producers drowns out the very real and important interest of all of us as consumers. These need to be balanced," he says.
What's more, Raustiala argues, knockoffs can be a point of entry into a market that can seem impenetrable, largely due to the high price points of iconic pieces, and might even offer heritage brands a silver lining: "The copy will help create a trend, in essence advertising the desirability of the original," Raustiala says. "Some consumers will then seek out the original, increasing sales [of those originals]."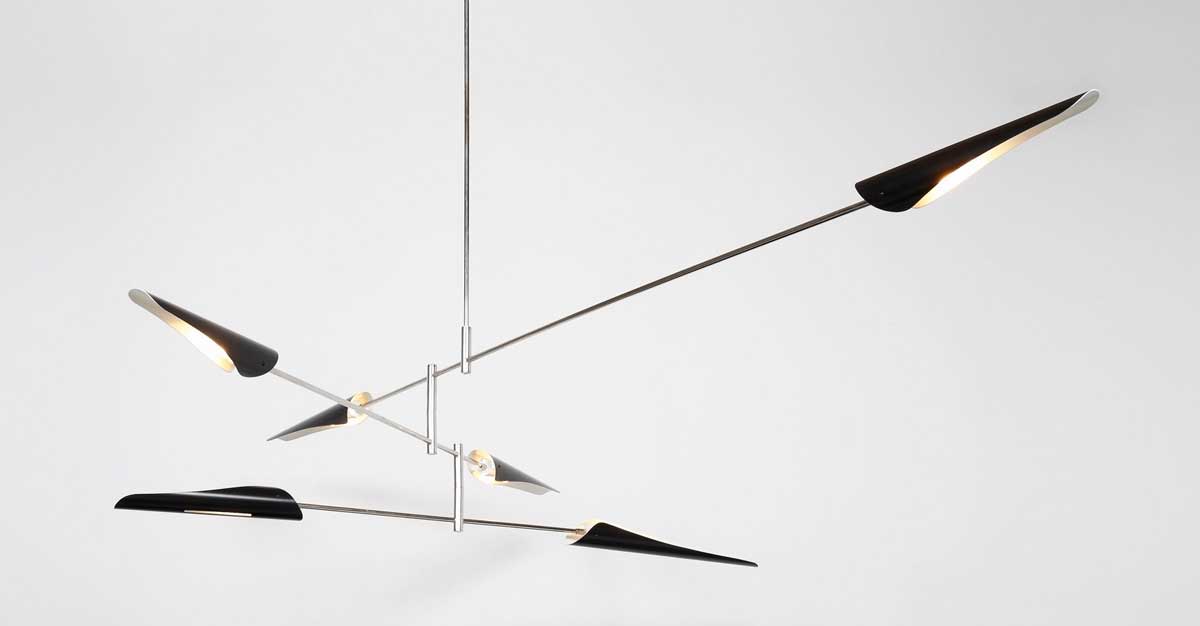 David Weeks Studio's Sarus Mobile Light. (Photo: David Weeks Studio)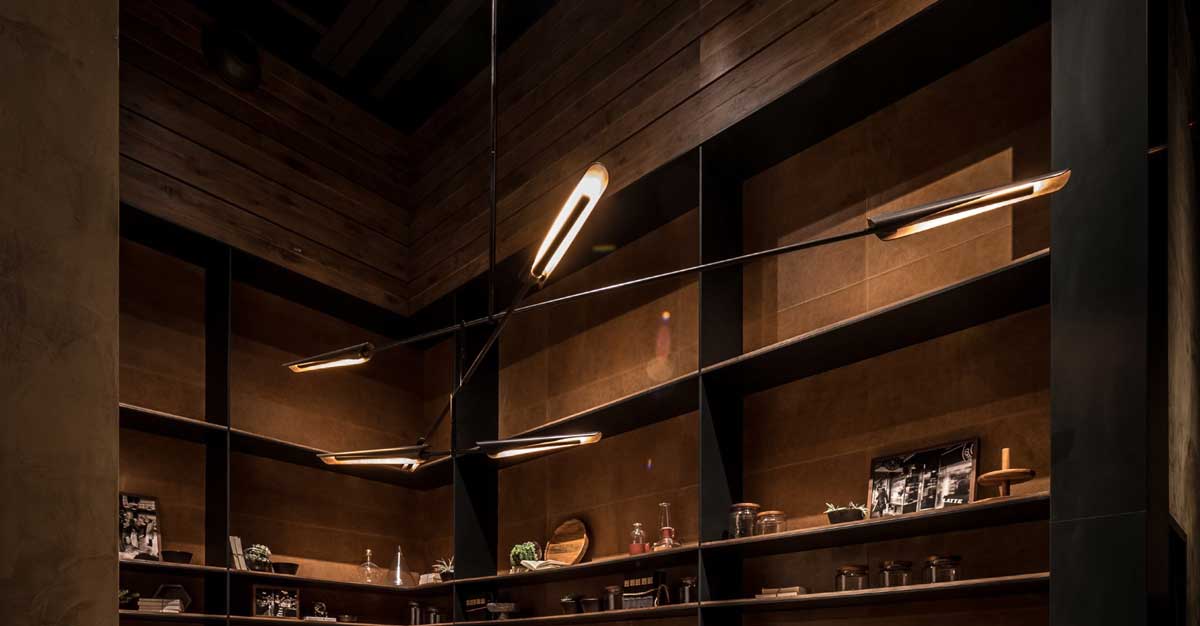 A fixture at Starbucks Reserve's La Brea location, which knocks off the design from David Weeks Studio above. (Photo: Supplied)
But it's not just makers of famous chairs that have to contend with knockoffs. For independent designers with smaller budgets and less brand visibility, a counterfeit poses a real threat. "Every now and then it turns into this critical mass, and there's this huge backlash [against knockoffs]," says Washington, D.C.–based designer Jonah Takagi of discovering a copy of one of his lamps. "Maybe they'll respond, maybe they won't. But, in my experience, I feel pretty powerless." Takagi's sentiment is common among independent designers, whose experiences are often ignored when those eager to sell—or defend—knockoffs tout the practice as a victimless crime.
Nearly every independent designer interviewed for this story said that they have been confronted with copies of their work. Sometimes, Takagi says, a friend will tag him in an Instagram post, excited to see his work out in the world without realizing it's an imitation. Other designers report specific incidents of brazen copying by corporations with resources that make legal challenges feel impossible. "We once quoted a project for Starbucks to later find out that they had our Sarus Mobile knocked off," says a representative for New York–based lighting, furniture, and accessories designer David Weeks. "This was for their high-end Reserve roastery on La Brea Avenue in Los Angeles. We are across the U.S. from them, but a designer friend in L.A. saw it and immediately sent us a message [about it]."
There is another option available to large companies that like the work independent designers are doing, of course: "Instead of just knocking these people off," wonders Takagi, "why don't you send them an email and be like, 'Hey, you want to design something?'" In some corners of the design world, that's already happening.
Swedish furniture behemoth IKEA has, in the last several years, announced a series of capsule collaborations with Danish furniture and accessories makers HAY and British designer Ilse Crawford, with releases from smart-home technology pioneer Sonos and the luxury lifestyle brand Byredo coming in the next year and a half. "We work with 'Democratic design' because we believe good design should be affordable and available to the many, not only a few," says Marcus Engman, IKEA's head of design. Partnerships with niche brands are a key part of that ethos. "We can never do everything alone. So being open and work with the best—the ones that challenge us, that add knowledge and skills we don't have—is a must if we want to move forward and stay true to our vision."
West Elm, too, is looking to capitalize on the appeal of independent designers via its Local initiative—a two-pronged program in which West Elm makes the work of local artists and designers available for purchase online and in its brick-and-mortar stores, and offers shoppers the opportunity to participate in experiential events (like textile-dyeing) with these artisans. "Consciousness is a one of our core tenets at West Elm. Whether it's through our sustainable sourcing practices, our Local program, or our handcrafted and fair-trade commitments, we believe everything we do is designed to make an impact," writes a West Elm spokesperson via email. "By continuing to support our local makers we help connect customers to the makers and artisans behind their product so they can be proud of the items they bring in to their homes."
While these developments are encouraging, big-brand collaborations with independent designers aren't going to stop knockoffs. It's also worth noting that both West Elm and IKEA—who frame these collections as limited-time events—have been accused of selling furniture derivative of both independent contemporary and iconic – designers, if not overt rip-offs of their creations. (West Elm declined to comment on these accusations; Engman, via a spokesperson, explained by email that "the IKEA view is that it is never acceptable to copy another designer's work. Before introducing an IKEA product on any market we do our utmost to make sure we act with respect and integrity in regard to other companies and designers.") Interestingly, there's also a thriving corner of the internet devoted to finding cheaper versions of West Elm products and offering tips on how to transform IKEA furniture to make it resemble more expensive pieces.
Weeks, Takagi, and New York–based lighting designers Lindsey Adelman and Mary Wallis all mention concern over the impact knockoffs might have on a small business. If a design by a emerging name is ripped off with lower-quality materials or by less-skilled workers, it might genuinely confuse customers and aficionados, resulting not just in loss of income but in damage to a designer's reputation. Still, there is a sense within the independent design community that knock-offs might be inevitable. "In a way, that type of resourcefulness goes back to the beginning of time," Adelman says. "It can be a form of ingenuity. When people want something, it's not a terrible thing that they figure out how to get it." Others try to see it as a form of flattery. "Does it mean you made it?" Wallis asks. "The first one I saw was sent to me as a text with the caption 'baby's first copy.'"
And what, aside from irritation or begrudging flattery, are the options available to designers working alone or in small teams? To record a trademark with Customs costs $190 dollars per product, but that gets you only the recordation—training has to be provided by the brand. David Weeks Studio did specifically point to Be Original Americas as an organization designers can turn to for support, but for many emerging designers, what it offers isn't enough. Though most of its public-facing work is centered around raising awareness of knockoffs, Be Original Americas currently has no specific program in place to help independent designers protect themselves against trademark infringement. This is despite the fact that the organization's manifesto claims that "young designers and ambitious design brands deserve design protection in order to keep designing new products and investing in bringing the design to the market." (Asked about plans to aid this group specifically, Edelman replied that "we recognize that support needs to extend to tangible aspects of their businesses. One way we would like to do this would be engaging IP attorneys who may be able to offer reduced rates for guidance.")
But as a relatively new player in a field that has been contending with knockoffs for decades, the organization's limitations are understandable. Be Original Americas has only about 150 members; membership fees are capped at $5,000 a year; and all its board members are, like Edelman, volunteers who participate on top of other industry roles. It's worth noting also that no major mass-market purveyor of furniture or décor—such as CB2, Target, or West Elm—is currently supporting the organization's initiatives (they have yet to be asked), nor are they willing to comment on stories like this one, meaning companies with huge influence over how design is generated, produced, and marketed are removing themselves from the conversation entirely.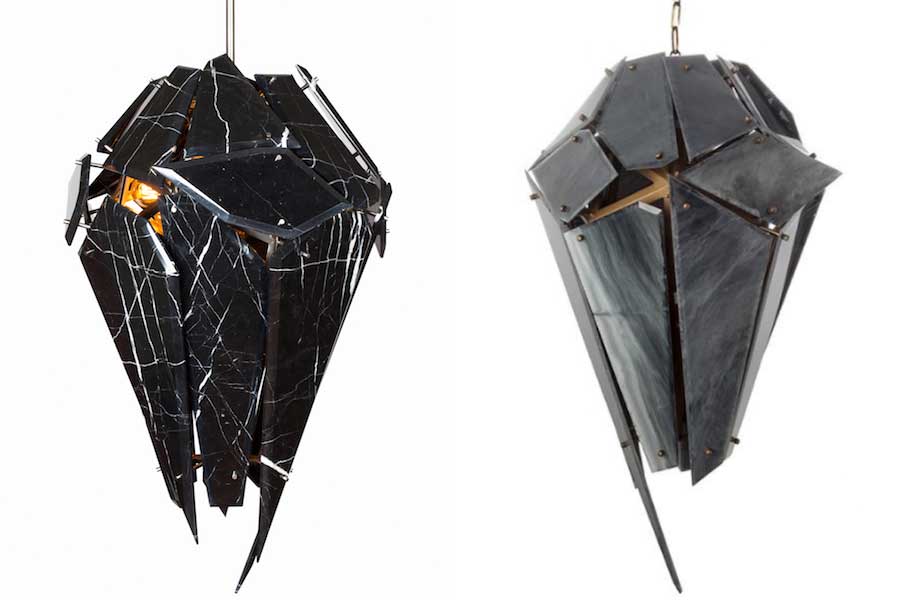 Designer Lindsey Adelman's Edie light, left, and France and Son's Eddy knockoff, right. (Photos: Courtesy Lindsey Adelman and franceandson.com)
"Dealing with knockoffs has been and continues to be an issue," says A. Jacob Marks, founder of Skram, an independent furniture company headquartered in North Carolina. Skram is a member of Be Original Americas, and the company has worked with lawyers to fight imitators. But increasingly, Marks is interested in considering the knockoff problem as a design challenge: "In our case, we offer 'entry level' products that offer all of the quality of our other products but with more standardized options and less flexibility in terms of customization," he says. "We do this in order to offer those who truly care about the objects with which they surround themselves an affordable option for heirloom quality designs."
Skram is part of an ever-growing cohort looking to address the issue of authentic, original design as it links to the budget constraints of potential customers. Companies like Hem, HAY, Muuto, and Menu, which tap some of the very same designers as blue-chip brands like Vitra and Herman Miller (Ronan and Erwan Bouroullec, Inga Sempé, and Scholten & Baijings among them) are positioning themselves in a space between the rarefied world of heritage furniture and the mass-market chain. "What seems to be missing is a platform to make these original designs attainable to a wider market," says Petrus Palmér, founder of Stockholm-based Hem. "This is where Hem is filling a gap." A sofa purchased through Hem might cost around $1,600—more than one might spend at IKEA, but well in line with prices at West Elm or Pottery Barn, and, for that matter, quite a few knockoffs—a price the brand says is made possible through a direct-to-consumer retail model. "Fighting knockoffs is an overwhelming undertaking," he says, "but as designers and design retailers, I think a more reasonable approach is to focus on providing more alternatives to [them] by offering high-quality wares at a good price."
High-quality, good price: The two terms are, essentially, what consumers want. But when it comes to design, who gets to define them? It's a fact that what we call "good design" can often be expensive, which in turn can make the idea of knockoffs more seductive, even to people who know better. Groups like Be Original Americas do make a compelling case—one shoppers are contending with across a wide range of products. The assertion that authenticity matters isn't one unique to furniture: It's now de rigueur to know where one's beer was brewed, or one's coffee beans were harvested, or one's sweater was knit.
What much of the current rhetoric doesn't address, though, is that knockoffs aren't going to stop being made, and the people who buy them aren't going to stop needing furniture, or wanting to feel like they own something that looks special. If brands want to truly render knockoffs irrelevant, they're going to have to take a hard look at what they're selling and what they're asking for, and invite—and, if necessary, demand—more voices at the table.
No matter how much that table costs.
This article was published by Surface Mag, June 4, 2018
Text by Angela Serratore © Surface Mag
Get ADA News + Event updates here // or discover ADA Membership benefits and how by joining the ADA you can help us stop design theft in Australia