The National Design Summit was held at MAAS (Powerhouse Museum) during Sydney Design Festival, attended by industry leaders to probe strategies to get Federal Government support for the Australian design economy.
NATIONAL DESIGN SUMMIT at MAAS
Chaired by Tim Horton (NSW Architects Registrar Board) – the discussion explored how New Zealand design advocates successfully leveraged the design sector onto policy agendas. As the New Zealand approach was unpacked it became apparent it is a logical starting point for Australia.
Australia is punching above its weight in design enterprise and professional services, yet despite sustained calls from the industry for a design policy suited to the 21st century, Australia lags behind its regional neighbours and global competitors when it comes to Government support, strategy and funding
PANEL

Professor Margaret Maile Petty (Executive Director Innovation & Entrepreneurship, UTS), Joanne Kellock (Australian Design Alliance [AdA] representing 14 peak industry bodies), Professor Claire Robinson (Vice Chancellor College of Creative Arts Massey University NZ / Political Commentator), and Anna Brown (College of Creative Arts Massey Uni NZ).
Design is a vital part of the economy, yet the general public are not design aware

Prof Margaret Petty

WHAT NEW ZEALAND DID
Following former U.K Design Council CEO David Keter's advice to 'pick your politician and stick to them,' in 2012 a NZ consortium lobbied a specific politician aiming for recognition for their design industry. Despite efforts, all it took was change of government to negate this approach.
The 2013 'Moving Up The Food Chain' research report was tabled and subsequently rejected by New Zealand parliament, leading to the creation of independent body DesignCo in 2014 by collective stakeholders.
In 2016 DesignCo engaged PwC to verify statistical findings, and quantify the annual contribution of design to the New Zealand economy. Stakeholders contributed $10,000 NZD to fund PwC activity ($125,000), supported by team members contributing on a voluntary basis, the estimated value of their time valued at around $250,000 NZD.
The final report was delivered July 2017.
Download links for the report and recommendations can be found below.

4.2% OF GDP – NZ DESIGN SECTOR LARGER THAN AGRICULTURE
Excluding architecture and the film industry, industries already well represented, PwC reported design contributed $10.1 billion or 4.2% of GDP in 2016.
This exceeded other sectors like agriculture, retail and tobacco!
By quantifying the value of design in economic terms, the platform had a voice government could hear, relate to and act on.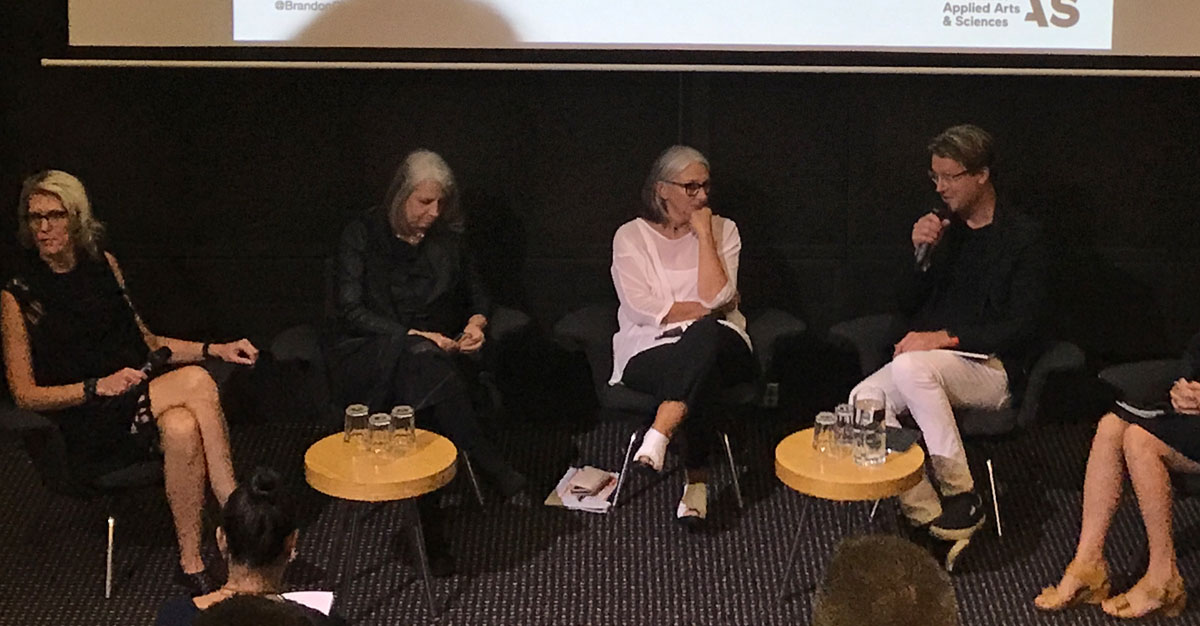 WHAT CAN AUSTRALIA LEARN FROM THIS?
Led by Dr Brandon Gien (Good Design Australia, CEO) the panel went on to flesh out where Australia sits and what's next, ultimately suggesting Trans-Tasman collaboration as a vital starting point.
In conclusion it was agreed a pitch document be created asking Australian organisations for donations to fund research to quantify the value contribution of the Australian design sector to GDP.
The gap between design registration and copyright in protection in Australia is where design slips between the cracks
Suggestions of a consumer-focussed grass-roots campaign to gain government attention were met with the reality that Australian consumers are design ignorant, and that as an industry we must become better at speaking to the public about what design is, what it does, and why it is valuable.
AUSTRALIAN CASE STUDY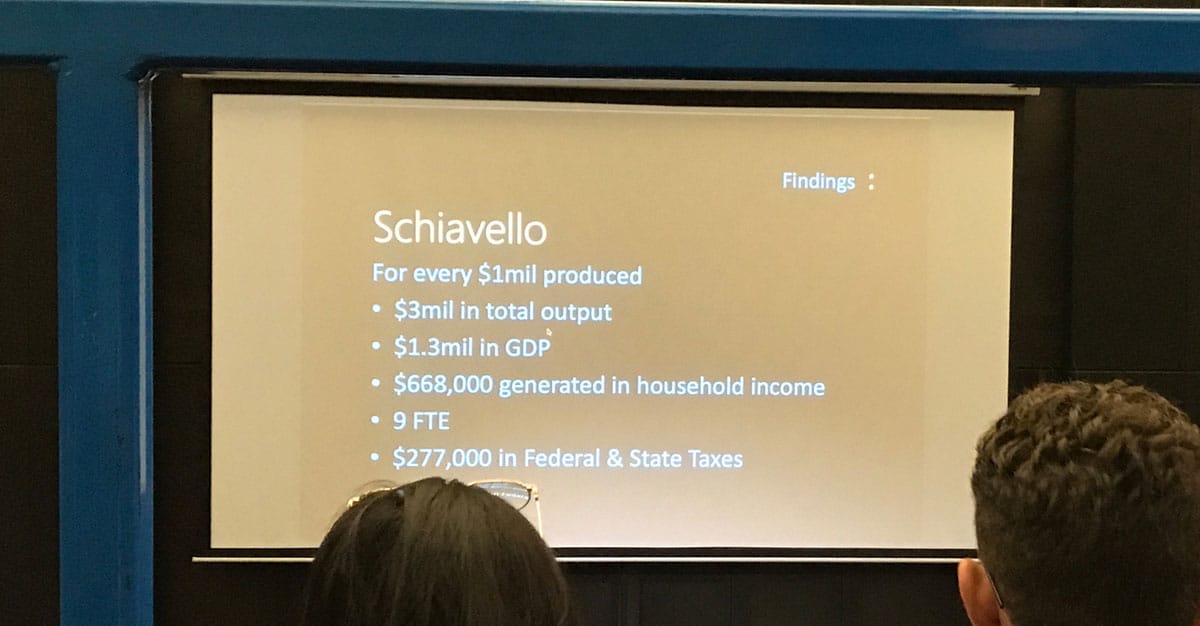 SCHIAVELLO // for every $1 million produced
$3 mill in total output
$1.3 mill in GDP
$668,000 in household income
9 FTE
$277,000 in Federal & State taxes
DOWNLOADS
Read Primer Document 'Australian Design Strategy 2.0′ (36 pages)
Read the New Zealand PwC full technical report here (119 pages)
DesignCo full report can be read here (36 pages)
HAVE SOMETHING TO CONTRIBUTE?
Please contact us with suggestions or case studies.
Premium ADA members can contribute to the agenda of our next round table event.
Text (c) Anne-Maree Sargeant, Authentic Design Alliance
Images (c) Authentic Design Alliance // Panel image courtesy MAAS, Sydney Design Festival
————————————————————————
DesignCo recommendations for New Zealand:
(DesignCo Press Release, July 2017)
Treasury to develop a national design strategy in collaboration with the New Zealand design sector.
Establish the role and office of the Prime Minister's Chief Design Advisor to promote awareness of, and support strategic investment in, design.
Establish and fund a body similar to the UK Design Council responsible for the strategic coordination of design in New Zealand, bringing together the design industry, research and education.
Establish a programme of business support for the use of design by SMEs, similar to the NZTE Better by Design programme.
Increase targeted funding support for design-led service transformation in the public sector.
Increase the focus, capacity and capability for matching design and design thinking expertise with science and technology innovation needs at the early stages of development.

Widen the current conceptualisation of STEM to include creative arts subjects such as design and creative media production, and increase the EFTS funding for these subject areas.
Establish a dedicated research fund for design researchers to access, and infrastructure to support the allocation of funds (separate from science, health or arts funding).
Establish a suite of Prime Minister's Design Prizes, to the same value as the Prime Minister's Science Prizes. The prizes could be administered by the Designers Institute of New Zealand, and would aim to become the premier awards for design in New Zealand.
Promote New Zealand design, through the NZ Inc. network, as a vital element of our national brand.
---
Read more Authentic Design Alliance CASE STUDIES