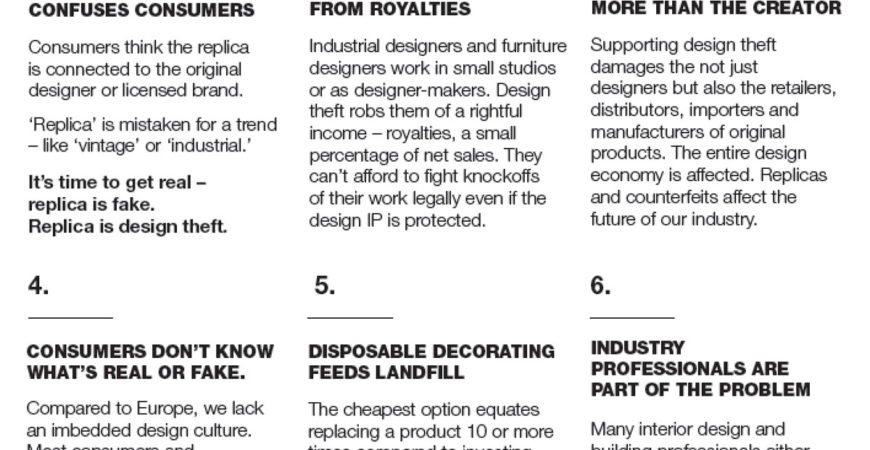 WHY JOIN THE ADA®?
Sub Heading Part 1
Britain joined Europe and criminalised the replica furniture industry. Meanwhile, in Australia, the thirst for fake designer furnishings accelerates .....
The British Government also made radical changes to UK intellectual property (IP) laws, aligning with Europe to protect their furnishing sector, leaving Australia lagging a long way behind with inadequate IP protection that allows replica retailers to unfairly profit from popular authentic designs.
"Australia is the 'Wild West' of fake designer furniture!"

David Trubridge, ABC Radio National
As a result, Australia is now targeted by unscrupulous local and international businesses that are flooding the market with cheap furniture and lighting knock-offs. the problem is accelerating and now bathware, architecture hardware, and other products are being crippled by copycats.
Consumers, businesses, and building industry professionals with the 'as cheap as possible' mentality drive a growing market for low-grade, short lifespan products. They either don't know or don't care what's real and what's fake, fueling a race to the bottom for the cheapest possible price.
"The culture of 'disposable decorating' feeds landfill, and 'built to last' has been replaced by the notion of 'if it's broken chuck it out, get another one!' "

Anne-Maree Sargeant ADA®

Help Stop Design Theft - become join the ADA® today!
MEMBERS DIRECTLY ENABLE ADA® ACTIVITY

Learn more about ADA Membership benefits here  // or - here if on mobile or tablet
6 REASONS TO JOIN
Sub Heading Part 1