Join us for 'Thinking Globally,' the third 'Design Thinkers' speaker series presented by Christopher Boots, at the Glenn Murcutt designed MPavilion in Melbourne on November 21.
We excited to moderate an award-winning lineup who explore their work across the globe, spanning diverse creative disciplines including spatial lighting and hospitality design, and commissioned art and installation for public spaces.
The panel probes the opportunities and challenges that come with designing for international projects. Each of the speakers represents Australian studios with a range of global design work, spanning large-scale public artwork, creative lighting, and interior design.
Speaker presentations will be followed by a panel moderated by Anne-Maree Sargeant from the AUTHENTIC DESIGN ALLIANCE®, inviting our brains trust to further examine the export of Australian design thinking.
Free to attend, bookings are essential and the talk will be followed by drinks – GET TICKETS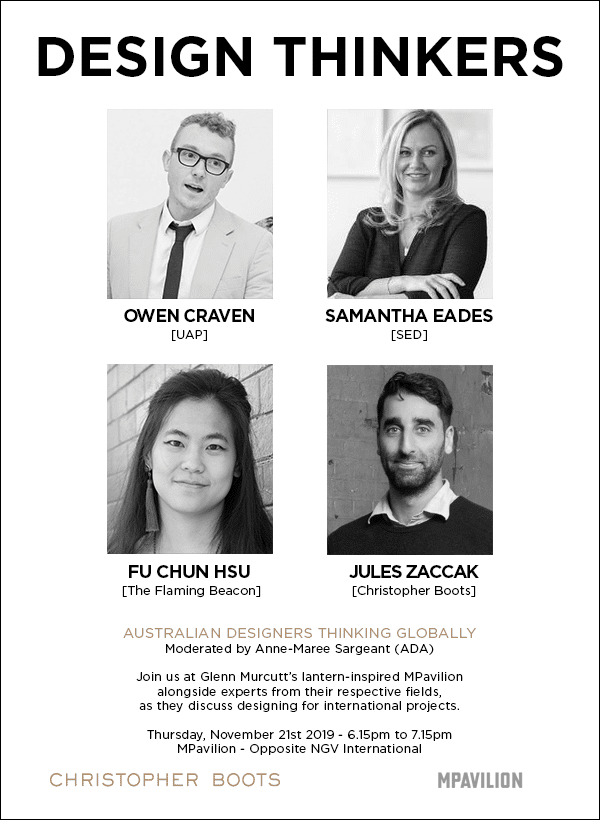 6.30pm – Welcome and Intro by Jules Zaccak (Christopher Boots)
6.40pm – Fu Chun Hsu, The Flaming Beacon
6.50pm – Owen Craven, UAP
7.00pm – Samantha Eades, SED
7.10pm – Panel with speakers and Christopher Boots, moderated by Anne-Maree Sargeant of Authentic Design Alliance®
7.30pm – Drinks
About the panel
Owen Craven, UAP
Owen Craven is a Principal and Senior Curator with UAP – a global design firm and fabricator, delivering large-scale public artwork and bespoke architecture into the public realm. Owen spearhead's the UAP Melbourne studio where he oversees the vision and implementation of a diverse range of projects alongside a team of curators and designers from UAP's global studios.
In his role, Owen works closely with artists and commissioning clients as they create work in response to specific projects and places. He has extensive experience in the visual arts sector and understands the importance of working through the creative process collaboratively in order to help artists realise their creative vision.
Samantha Eades, Samantha Eades Design
As a creative strategist and CEO, Samantha Eades consults, connects, and co-creates across on interior and architectural projects across the globe.
The Samantha Eades Design team collaborates with international hospitality groups creating venues that are designed to elevate human experience and interaction. The SED design team are renowned for intuitive and conceptual thinking coupled with a respect for history, culture and attention to contemporary trends and technology.
The Flaming Beacon (lighting design consultancy)
Founded in 1986 by Nathan Thompson, The Flaming Beacon is a specialist, international lighting design consultancy with over 20 design staff across its two studios, in Melbourne, Australia, and Berlin, Germany. Their speciality is the design of beautiful, exclusive hospitality projects.
They emphasise problem solving, promote innovation in process and outcome, and maintain a strong commitment to each project's individual demands and particularity. Understanding that specific demands are usually not well served by the application of standardised responses, we contribute tailored solutions in support of a project's particular character.
Anne-Maree Sargeant, Authentic Design Alliance®
Authentic Design Alliance® (ADA) is an independent member-funded association advocating for replica, counterfeit & knock-off furnishings to be made illegal in Australia. Supporting the designers, creators, manufacturers, brands and distributors that make and sell original contemporary furniture, lighting and designed objects, the ADA promotes the importance of investing in authentic design.
As an education program, the ADA strives to shift cultural change in buyer behaviour to support the future growth of contemporary design industry in Australia – for both imported and locally created products.
Anne-Maree Sargeant (AMS) has worked alongside leading global design brands, events and publications for over 30 years. As a founding team member who helped establish the Space Furniture network for founder Kevin Jarrett, AMS has also been contributing editor to many magazines including Monocle and was editor-at-large of Belle Magazine. Initiating platforms that promote and support emerging design talent, AMS was integral to creating Launch Pad (Indesign Media), Evolve (Designer Rugs), NEST (designex) and ID x THE SNAP COLLECTIVE (Denfair), and she now heads up the ADA®.
MPavilion is Australia's leading architecture commission, and a cultural laboratory for the community to engage and share.