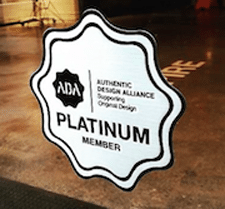 WHAT MEMBERSHIP IS RIGHT FOR ME? - JOIN HERE
Sub Heading Part 1
AUTHENTIC DESIGN ALLIANCE ® is a social enterprise advocating for improved IP protection for the furniture and lighting sector to fight against design theft.
We strive to shift consumer behaviour towards valuing and investing in original products, aiming for replica furnishings to be made illegal in Australia.

+
On desktop/laptop – you're in the right place!
+
Members directly fund our advocacy and education programs.
Join now and help secure the future development of our design industry.
[supsystic-price-table id=8]
ADA® MEMBERSHIP BENEFITS
BUSINESS MEMBERSHIP Tiers reflect the type and size of your business.
Premium Platinum and Gold member logos appear on our home page and feature in all ADA Newsletters, Newspapers and at our Events.  These members also have a priority seat at our roundtable sessions, directly contributing to our campaigns and strategy.
Our PLATINUM Promotion includes AUTHENTIC DESIGN ALLIANCE® logo license permissions to use ADA® logos for up to three (3) Australian brands.
PLATINUM MEMBERSHIP  $5,000+gst // full strength support for less than the cost of a 1-page magazine advertisement  Join here
GOLD MEMBERSHIP            $3,300+gst // cheaper than two coffees per week! Join here
SILVER MEMBERSHIP         $2,000 +gst // help stop design theft for just $5 a day Join here

BRONZE MEMBERSHIP      $ 900+gst // that's less than $2.50 a day! Join here
**NEW ** Sole-Trader + Solopreneur  $450+gst  // for individual business practitioners, not suitable for a brand or business
—————————————————————-
PERSONAL MEMBERSHIPS
INDIVIDUAL   $180+gst // sign me up now! Join here

SUPPORTER   $70+gst // design-loving consumer – Join here

—————————————————————-
---
QUESTIONS? Please contact us for more information.