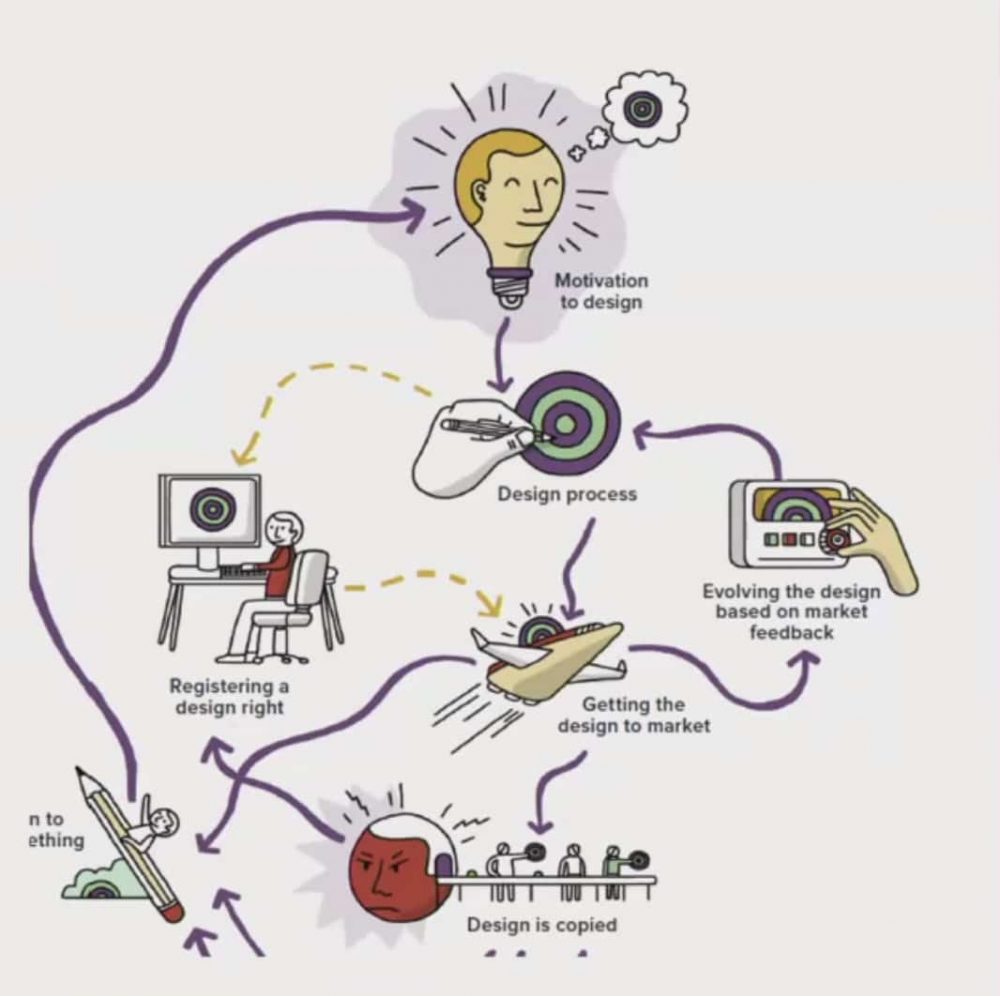 The Australian design industry contributes $67.5 billion annually to GDP, equal to the construction industry. So with design theft now rife in both retail and the interior design sector – how can you harness existing IP Protection tools to prevent your products from being copied?
The design reform review by IP Australia acknowledges the current system doesn't suit the market, and a complete overhaul is on the table as part of the 2-year government research project.
That said, please find below a 'cheat sheet' on how current IP protection works within the design industry.
During Melbourne Design Week, IP Australia hosted a workshop series that went back to basics with 'What is Intellectual Property?' and unpacked the various mechanisms open to creatives and businesses to best harness the existing system to protect original products.
Here is a summary of key points, and we hope to share video links to the events soon!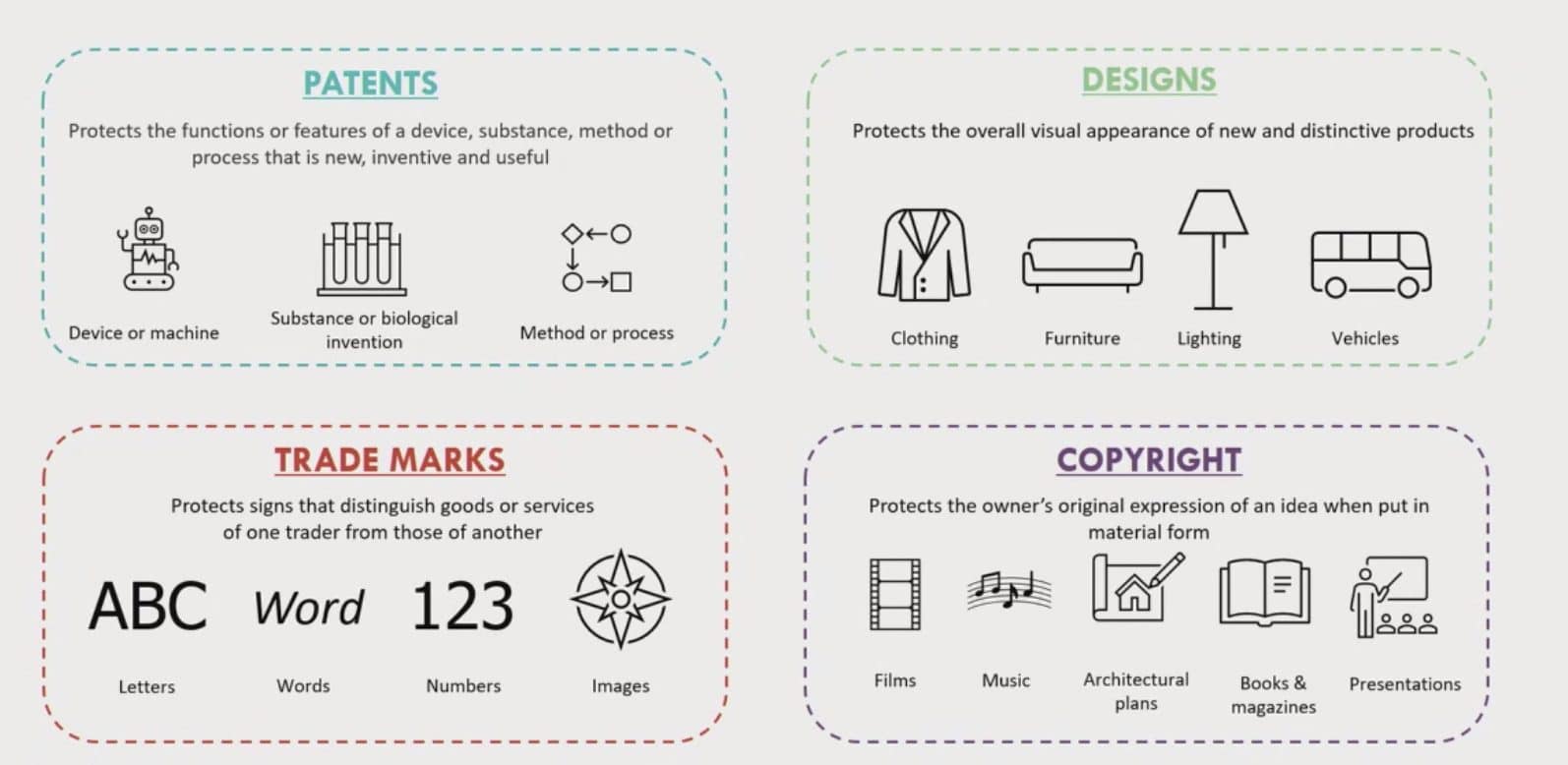 DEFINITIONS: Understanding the IP Australia remit.
Patent: protects how a product works.
Design rights/design registration: protects how a product looks not how it works/must be kept a secret until the design is protected – so in order to formalise feedback, manufacturing, marketing materials etc, must retain trade secret (NDA).
Grace Period: currently, there is no 'Grace Period' – a prescribed time frame that designs are protected prior to design registration being granted.
Legislation amendments are likely to pass Federal Parliament this year granting, what we expect, will be the introduction of a 12-month Grace Period.
Length of Protection: currently 10 years in Australia (5 years+5 year renewal).
Should Australia join the Hague Agreement where member countries have between 15-25 years of design protection, we are lobbying for a minimum of 25-year registrations.
Definition of industrially produced design:
over 50 objects – considered an industrially produced design
under 50 units – work of artistic craftsmanship
Certified design right – offers protection only for Australia. If manufacturing in another country should consider protection there. Like patents, designs must be verified as 'new' and 'distinctive'.
Trade Mark: a mechanism that protects the logo or the brand name that helps identify the brand. This can be a letter, word, number, sound, shape, smell, aspects of packaging, or combination of all of the above – anything that distinctly identifies a brand.
TM can legally be used once an application is being filed.
® can only legally be used once the trade mark has been formally granted.
A principle of TM law is that in everyday language whilst descriptive terms, common words, surnames, common objects can't necessarily be protected, certain terms can be protected in a specific area eg Apple (fruit) vs Apple computer.
A registered trade mark is not the same as registering a business name or a URL.
Trade Mark protection lasts 10 years in Australia and can be renewed as many times as needed.
If you manufacture and trade in other jurisdictions, it is recommended that trade mark protection is additionally taken in these territories.
Using legal advice will best determine what categories you can file to register specific trade marks.
Trade Secrets: using non-disclosure agreements (NDAs) to protect trade secrets
Copyright: protects the original concept, although once a product has been industrially produced (50 or more units), copyright is not a form of IP protection.
Copyright protects the owners' original expression of ideas when put in material forms. It does not protect the ideas themselves, as ideas can not be protected.
In Australia, the design sector tends to think that copyright is automatically applied to design products.
Unlike other creative disciplines like art, literature, film, music, and photography – industrial designs are not protected by copyright. There is the added complication under Australian IP laws that is the 'designs copyright overlap.' Since 2017 we have supported our Affiliate partners the Australian Copyright Council to have this area of the law clarified and amended.
Authentic Design Alliance stakeholders believe industrial design deserves the same freely available copyright protection as other creative disciplines.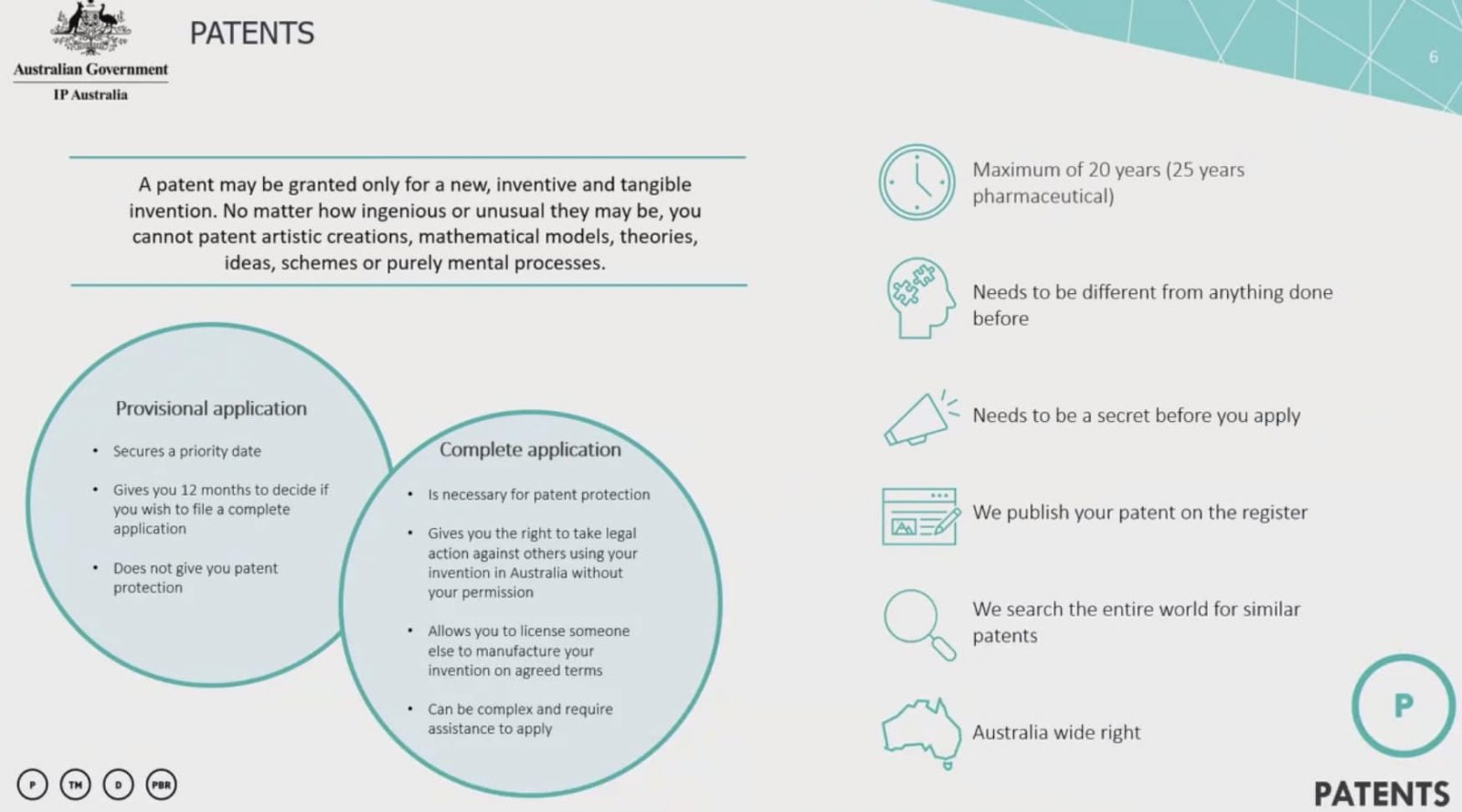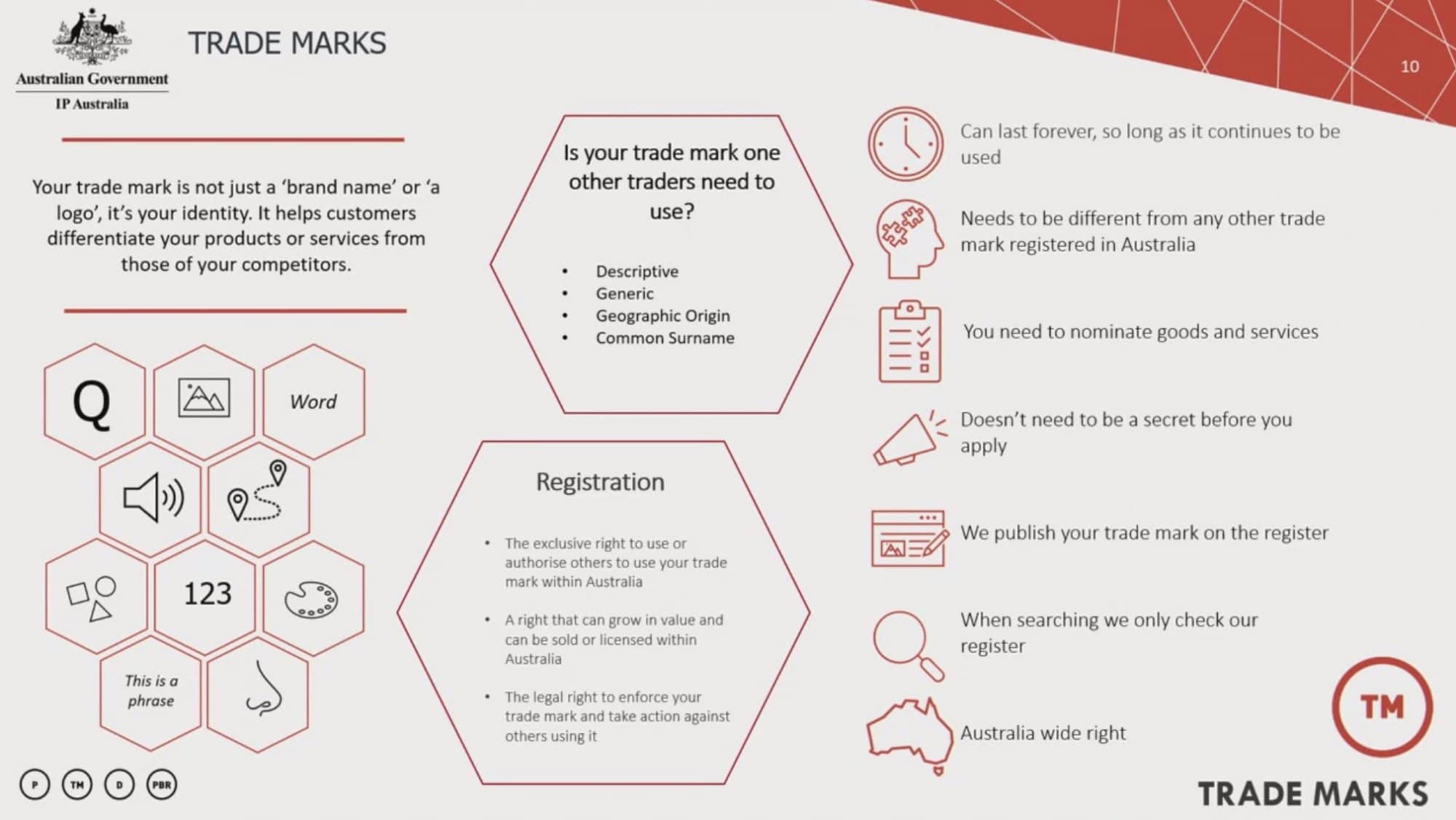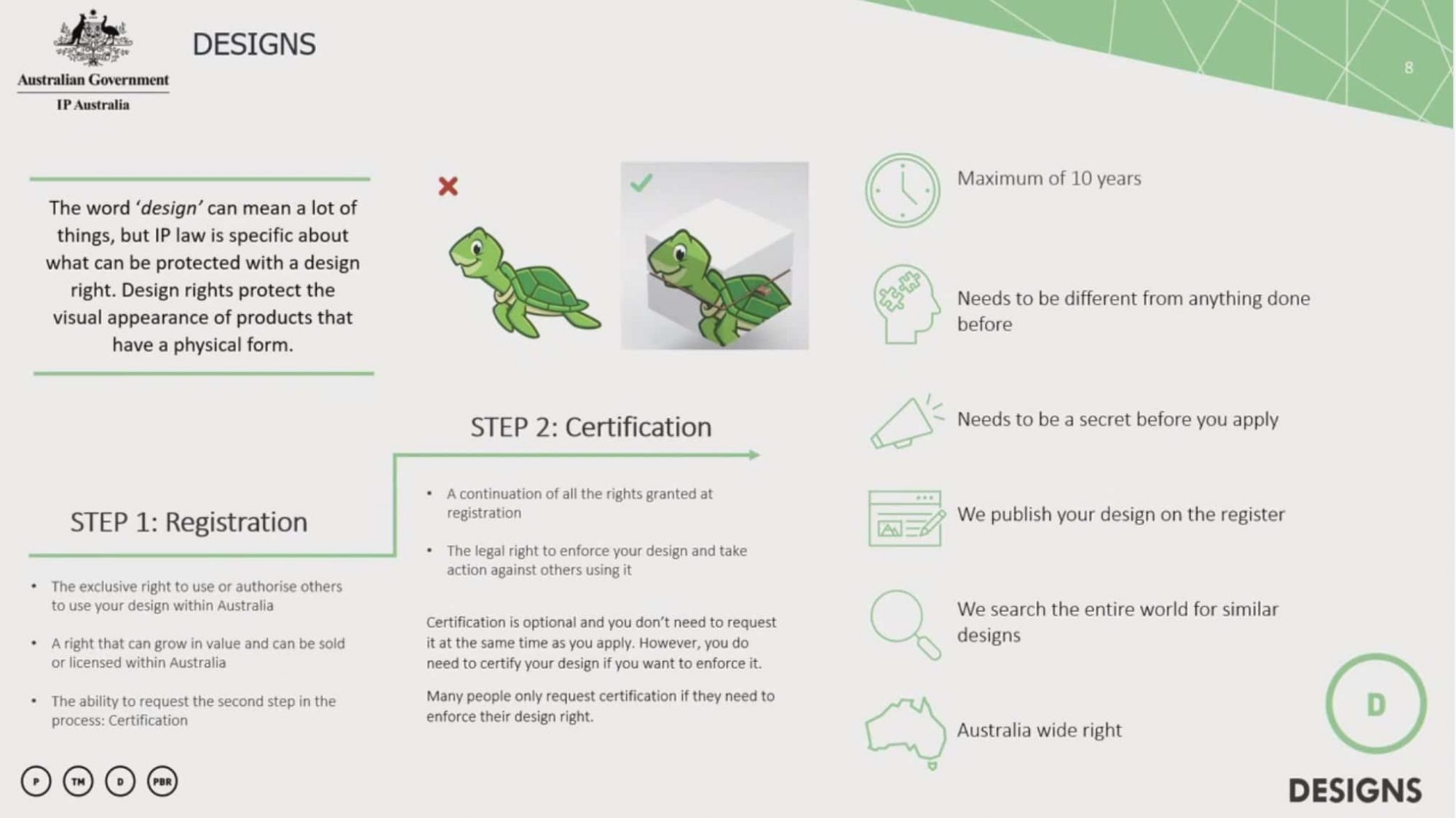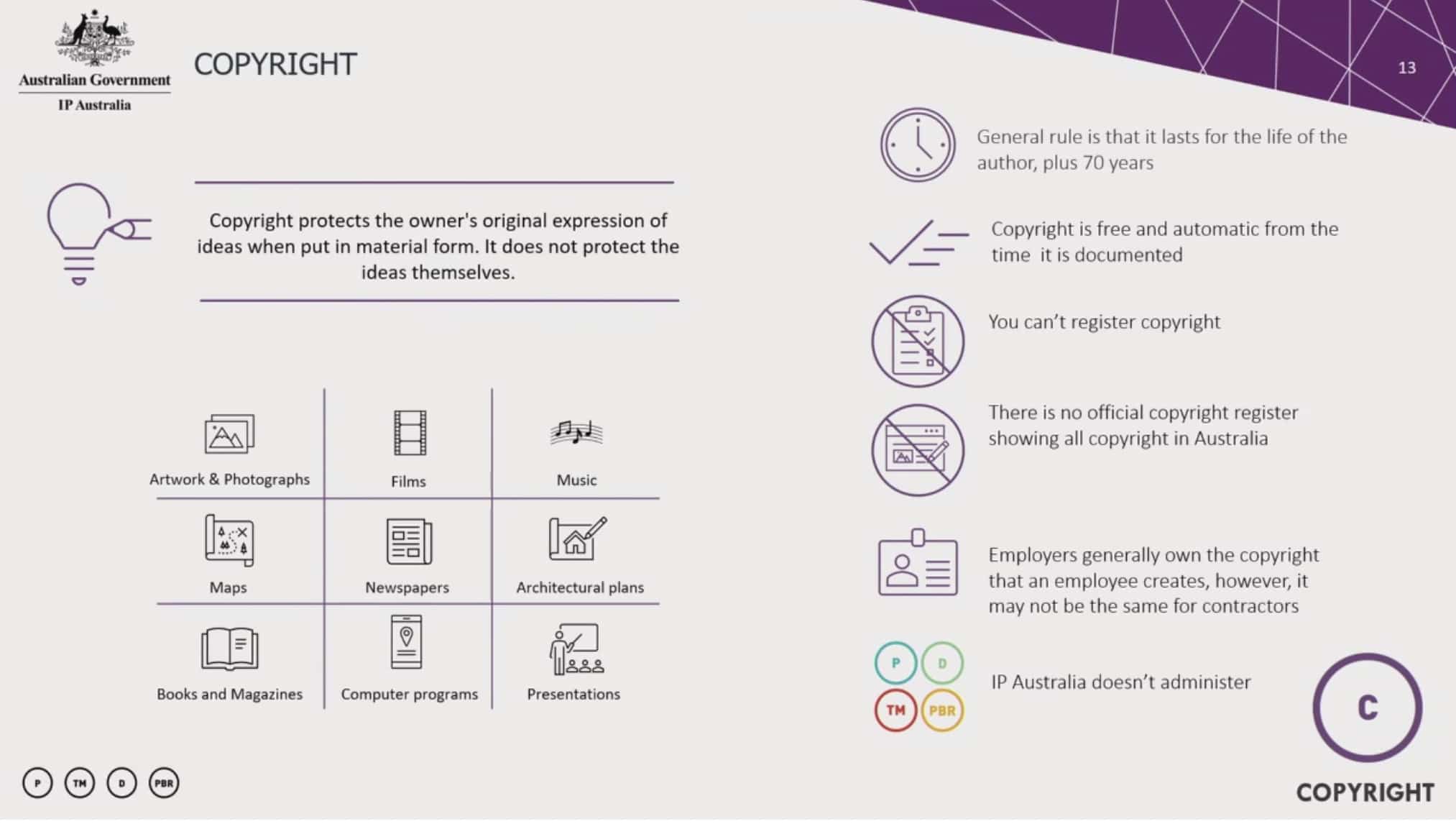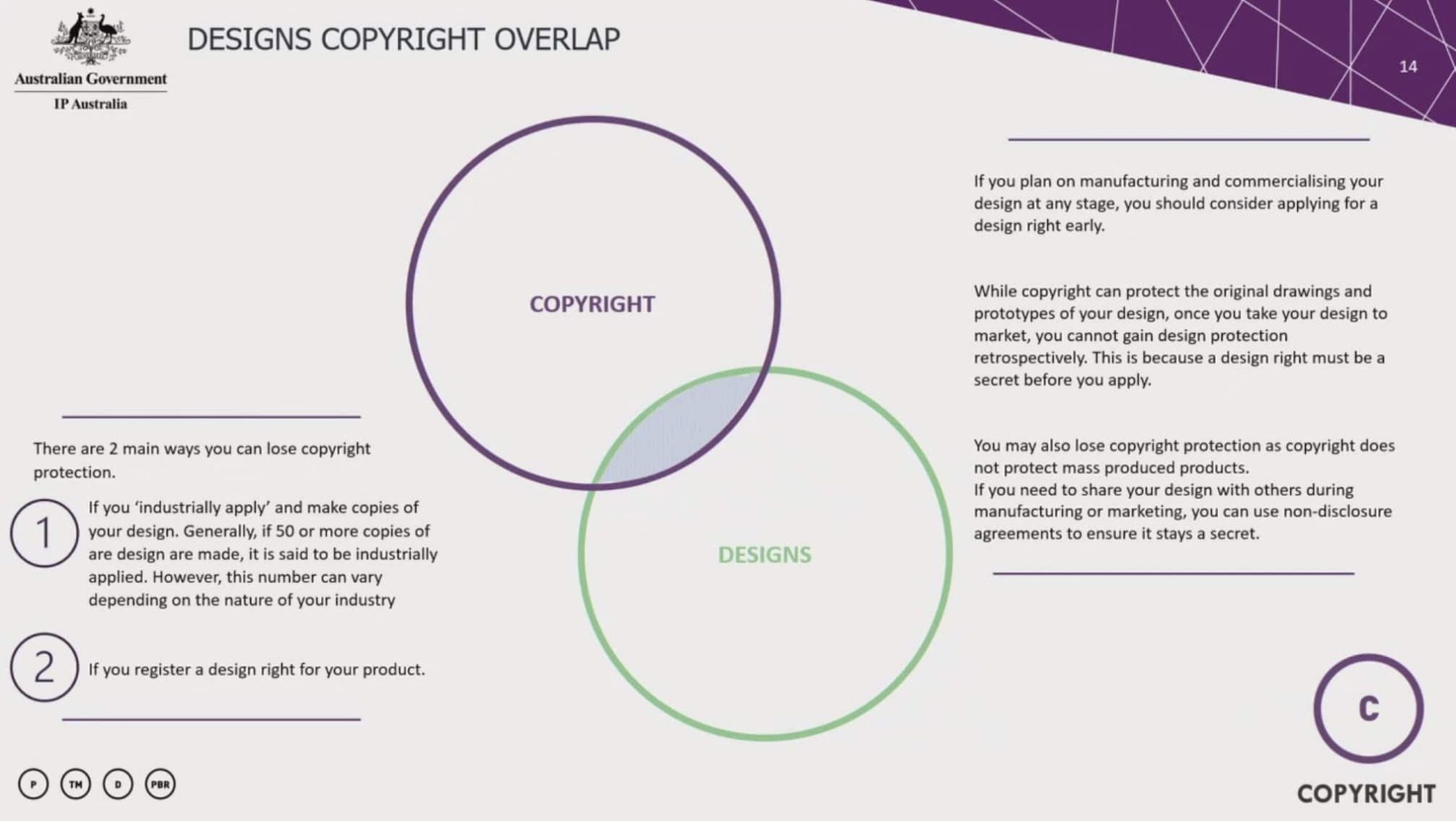 IP Australia designs review – at what point in the design development process should the design be protected?
A second IP Australia workshop was interactive with participants giving live feedback on various points that included research into what part of the design development process should a design be protected.
This is a complex question. For example, if the creation(design) is protected at the concept stage, additional amendments are required to adjust the final registration to the product once it has completed all the interactions from concept to a marketable product.
Participants included legal professionals (60% of attendees), furniture designer-makers (5%), commissioning brands (5%) and other IP specialists.
It would be interesting to see broader research on this with designers and commissioning brands providing feedback for a clearer picture.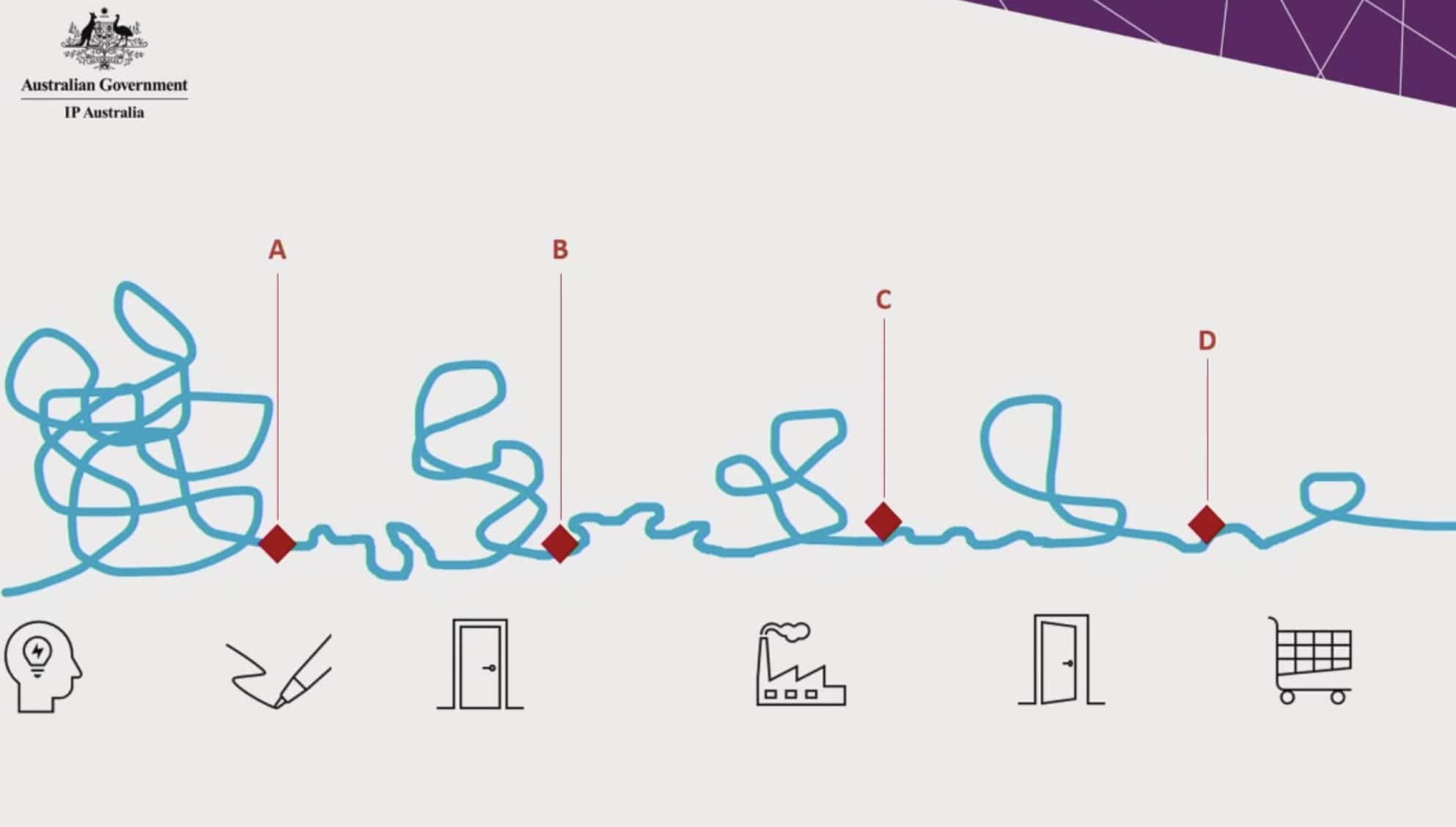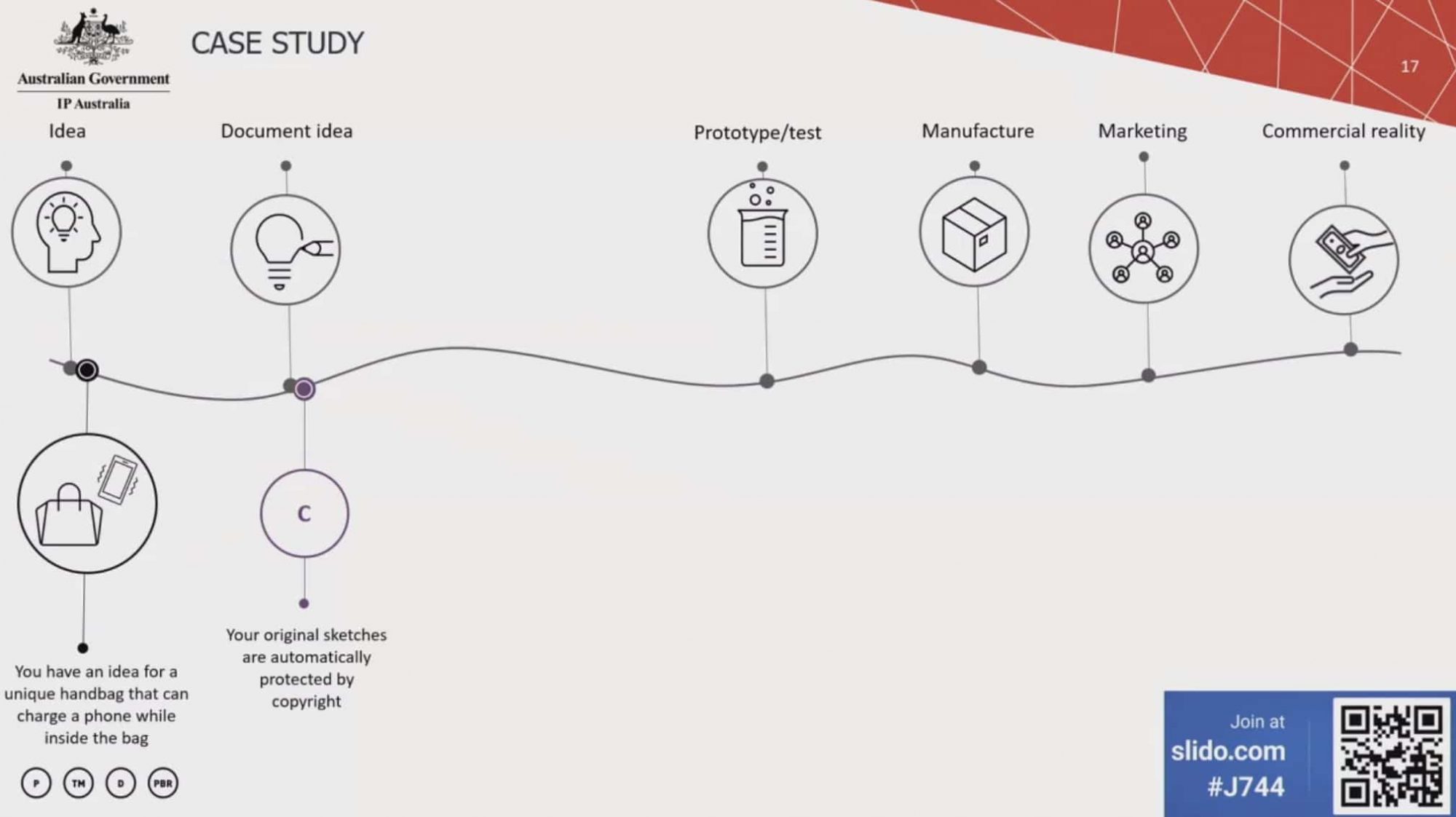 TOP TIPS FOR PROTECTING DESIGN IP IN AUSTRALIA:
Whilst the 'first to market' strategy aids protection, it is essential to ensure new designs are protected PRIOR to making them publicly known. This includes not releasing on social media, publishing online or showcasing at exhibitions or trade events.
For more information /// +1300 65 10 10 or head to IP Australia website and search online education tools.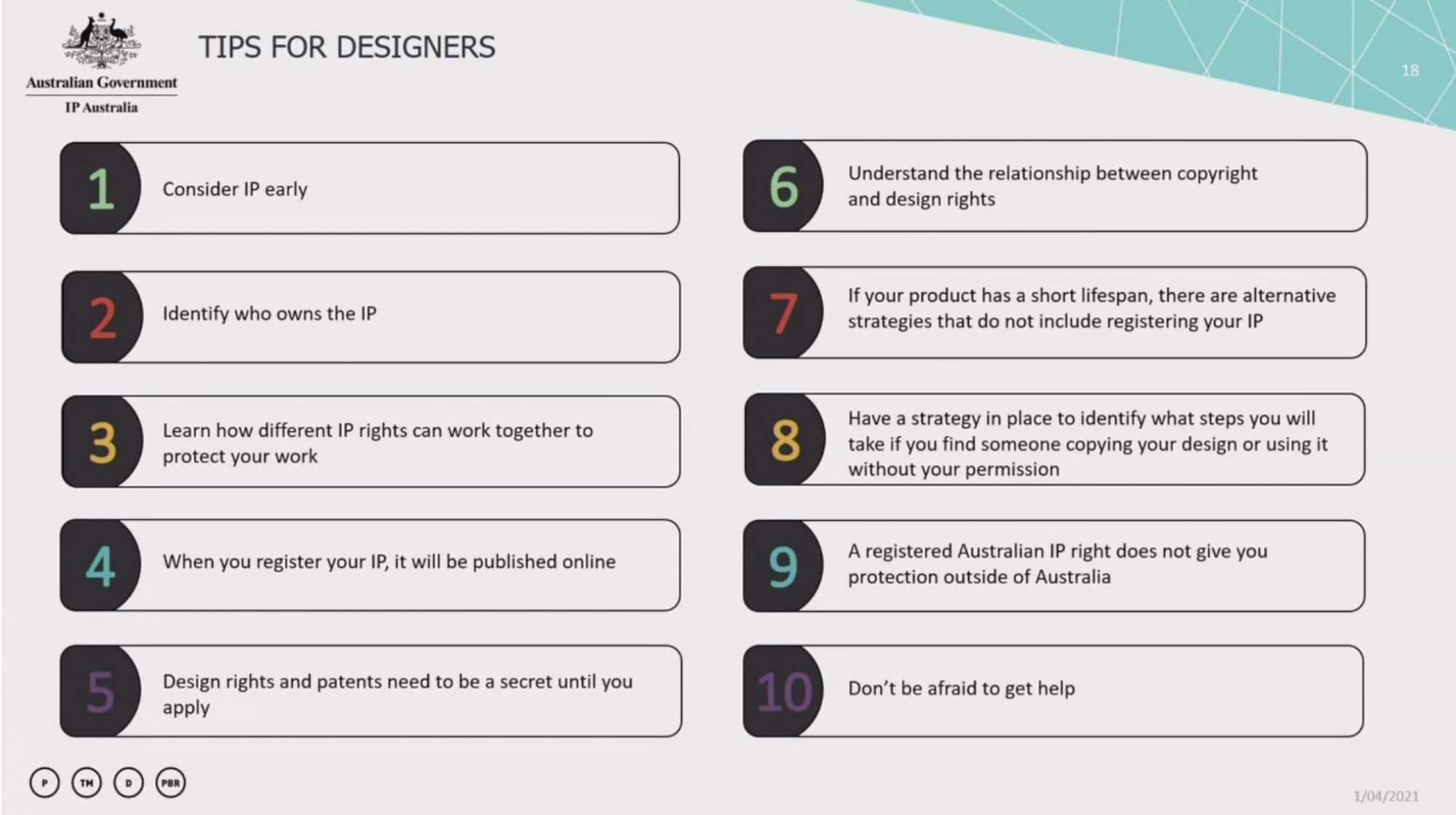 THE 10% RULE DEBUNKED:
MYTHBUSTERS – the 10% rule is untrue!
Under copyright law, you can't use a substantial part of someone else's material without prior permission.
Under designs law – only 'new' and 'distinctive' works can be protected.
 THE NDA – whilst they sit outside the IP Australia remit, a non-disclosure agreement is a tool to protect trade secrets during the design development process.
Again – head to the IP Australia website for free NDA templates.

SUGGESTIONS FROM THE PANEL – what to do when you're copied, and other pro-tips.

Cease & desist – using the correct tone often used by a legal professional can often be the shortest path to success and ultimately save time and money
Ff your design is registered – have standard cease and desist prepared by your legal advisors
Use a lawyer to create a template that uses your own voice – this will enable you to send your own letters without involving a lawyer
NDA – not always solid protection and some companies refuse to sign
Do due diligence and research if your potential customer (retailer/buyer) is reputable before entering a sales agreement.
Alternatively – write at the top of the document – this is a highly confidential document / shared in commercial confidence – this frequently is enough to stand up in court.
Grant applications to government – some grant applications can be published online so must retain secrecy clearly identify if an embargo, and ask if the grant application will be published online to avoid being penalised by having been seen public domain before a design registration is granted.
IMAGES c/ IP Australia