The first ADA Perth event hosted by ADA Platinum member designFARM presents Home.Grown, and exploration of the challenges faced when it comes to launching local design.
Celebrating the quality, durability and authenticity that comes with the "Made in Australia" label, Perth showroom designFARM launched HOME.GROWN Design to showcase the latest offerings from some of the country's finest.
Bringing together some of Australia's most acclaimed designers and industry heavyweights, HOME.GROWN Design is in response to a collective shift in mindset where consumers are showing an increased and genuine interest in local design and locally made products. And yet, there is plenty of educating still to do. It presented an opportunity to showcase the latest offerings by TAIT and NAU as a result of exciting collaborations between Australian designers and industry leaders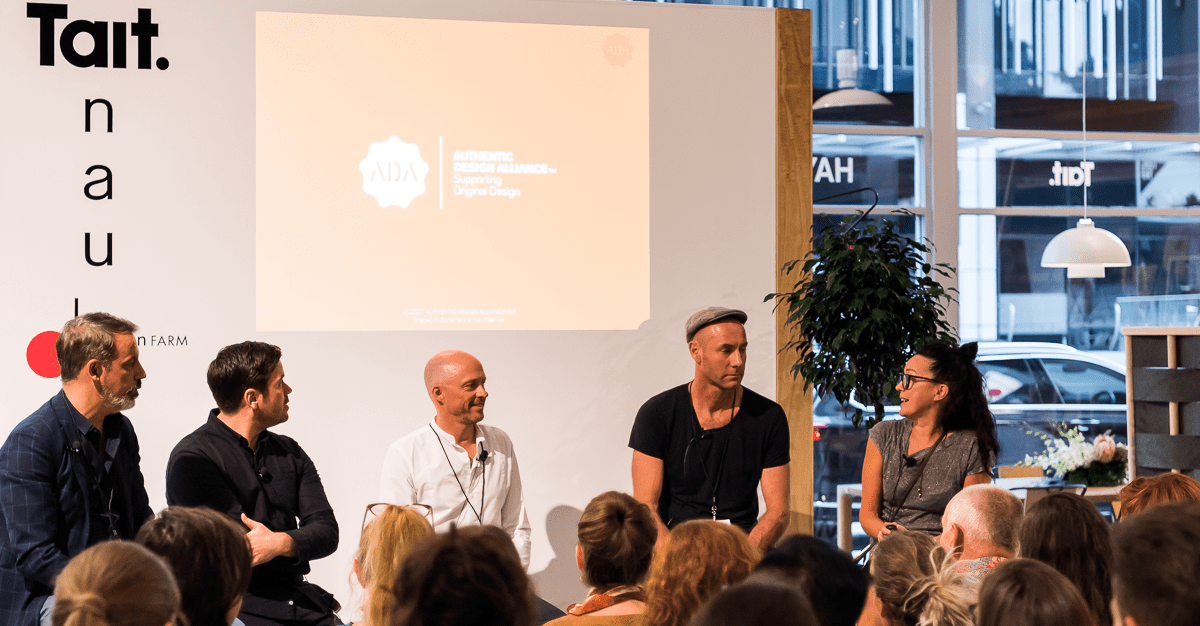 designFARM's showroom was abuzz with an Industry Panel and like-minded guests enjoying dialogue surrounding the challenges faced by the Australian industry and the importance of supporting original design in Australia. Panel members included CULT and NAU founder Richard Munao, TAIT designer and founder Gordon Tait, Sydney-based industrial designer Adam Goodrum, Melbourne-based designer Adam Cornish, and director of the AUTHENTIC DESIGN ALLIANCE (ADA) Anne-Maree Sargeant, who provided Fabric Quarterly with some insight into the issues facing the industry today
What was the ethos behind designFARM's HOME.GROWN Design presentation?
During 2017 the ADA has hosted a series of moderated panels focused on design stories to connect the audience with the bigger story about the tremendous amount of vision, investment and commitment required to realise new products, and the problems associated with design theft, replica products and how far Australia lags behind new laws introduced in the UK – where the replica industry is now criminalised. Australian design laws are not only inadequate when it comes to protecting local furniture and lighting designers and brands – we're a young nation, and not as design literate as our European counterparts.
It was fantastic to see the support from the Perth design community at HOME.GROWN Design, with over 100 architects and interior designers attending the event. It was my first visit to designFARM – the showroom is presented to the highest standard, which isn't hard when you have such a fantastic brand cache, but the merchandising and product settings are really stunning. It was impressive to see in the flesh!
How do you see perceptions around nurturing original design changing in Australia?
The ADA was founded in 2010 by a group of leading furniture showrooms concerned about the problem with design theft. At first, it was mainly design icons being knocked off, like the $299 Eames Armchair & Footstool advertised last week at a national supermarket chain. But by 2014 living designers found their work ripped off – always their best seller – resulting in a massive loss of income and reputation damage. The fall out is phenomenal!
The culture of 'the cheaper the better' isn't sustainable and it contributes to masses of landfill as cheap counterfeit furniture is poorly made and can have a lifespan of 1-2 years. Our grandparent's generation saved to invest in the set of furniture they would have for life. They'd invest in something they'd love that was made to last, and often, would be passed down through the family. The current notion of buy cheap, replace it, buy another one, replace it, etc., is meaningless.
In the words of Dame Vivienne Westwood "Buy less. Choose well. Make it last." We are in the era of making meaningful purchasing decisions, which extends to furnishing and lighting.
With so much high quality, often affordable, Australian design available, we're spoiled for choice. It would be great to see a shift toward consumers and designers supporting locally designed furniture and lighting.
Unfortunately – in this era of TV decorating shows and 'get the look' in magazines – there's still a culture for 'dumbing down' design – and 'style' and 'trend' is confused with 'design.' Similarly, 'replica' is considered by many to be a trend like vintage or industrial. So we have a long way to go with sharing design knowledge. With understanding comes a connection with products that are well designed and skillfully made. With that connection comes meaning. People don't readily discard things they care about.
What is currently happening with the ADA?
Our new website finally went live this week – with the new membership program. We are directly funded by membership fees, and designFARM is the first WA brand to support us as a re-launch partner!
Aside from promoting and supporting original design, the ADA teaches design history and shares stories about iconic designs and heritage brands as well as local talent. We also advocate for changes to IP laws for more protection against design theft – in line with the UK.
Supporters (design-interested consumers) can join the ADA for $70, and Industry Individual Memberships are $180 annually.
This article was published by FABRIC QUARTERLY on December 18, 2017.
AMS was interviewed by Claire Millet, photography Dan Robeson.
REGISTER FOR MORE ADA News & Event updates – here