The regulatory body for patents, trade marks and design registrations is currently undertaking a review of design systems. As part of this IP Australia invited the AUTHENTIC DESIGN ALLIANCE to present a range of scenarios for consideration. Additional to the round table we coordinated individual meetings with importers, distributors, local design brands, early career designers and manufacturers to round out the conversation.
ADA Roundtable with IP Australia
Designers Adam Goodrum, Charles Wilson, Adam Cornish and Nick Rennie joined by Sarah Gibson from DesignByThem gave a perspective from independent designers and brands.
ADA co-founders Richard Munao / CULT and Vincent Aiello / EUROLUCE with Phil Brenton / ARTEDOMUS & NEW VOLUMES and Matt Lorrain / SP01 presented on behalf of importers and manufacturers.
We were also joined by management teams from Space Furniture, Cult and our affiliate partners the Australian Copyright Council and legal partner Banki Haddock Fiora.
A big thanks to CULT for hosting our first session and look forward to further sessions in Sydney and Melbourne in August and September – where we are seeking industry consultation to help us appropriately cover all areas.
Key advocacy points.
Design registration period – 25 years / automatic copyright protection
As part of our consultation we are advocating for radically improved IP Protection via extended design registration periods (minimum 25 years), and for automatic copyright to apply to furniture, lighting and designed objects – as it does in other Australian creative sectors (art, photography, music, film, literature, architecture).
The word 'replica'
We also advocate for 'replica' furniture and lighting to be made illegal in Australia in line with new UK laws, requesting the removal of the legalities surrounding the word 'replica' in our sector.
Introduction of a 'grace period'
The inclusion of a 'grace period' i.e 6-12 month period designs are protected prior to being registered is also top of the list.
OTHER POINTS
On behalf of importers the subject of border control was raised and the impact of Australian businesses / building professionals copying products off-shore and importing cheaper counterfeits.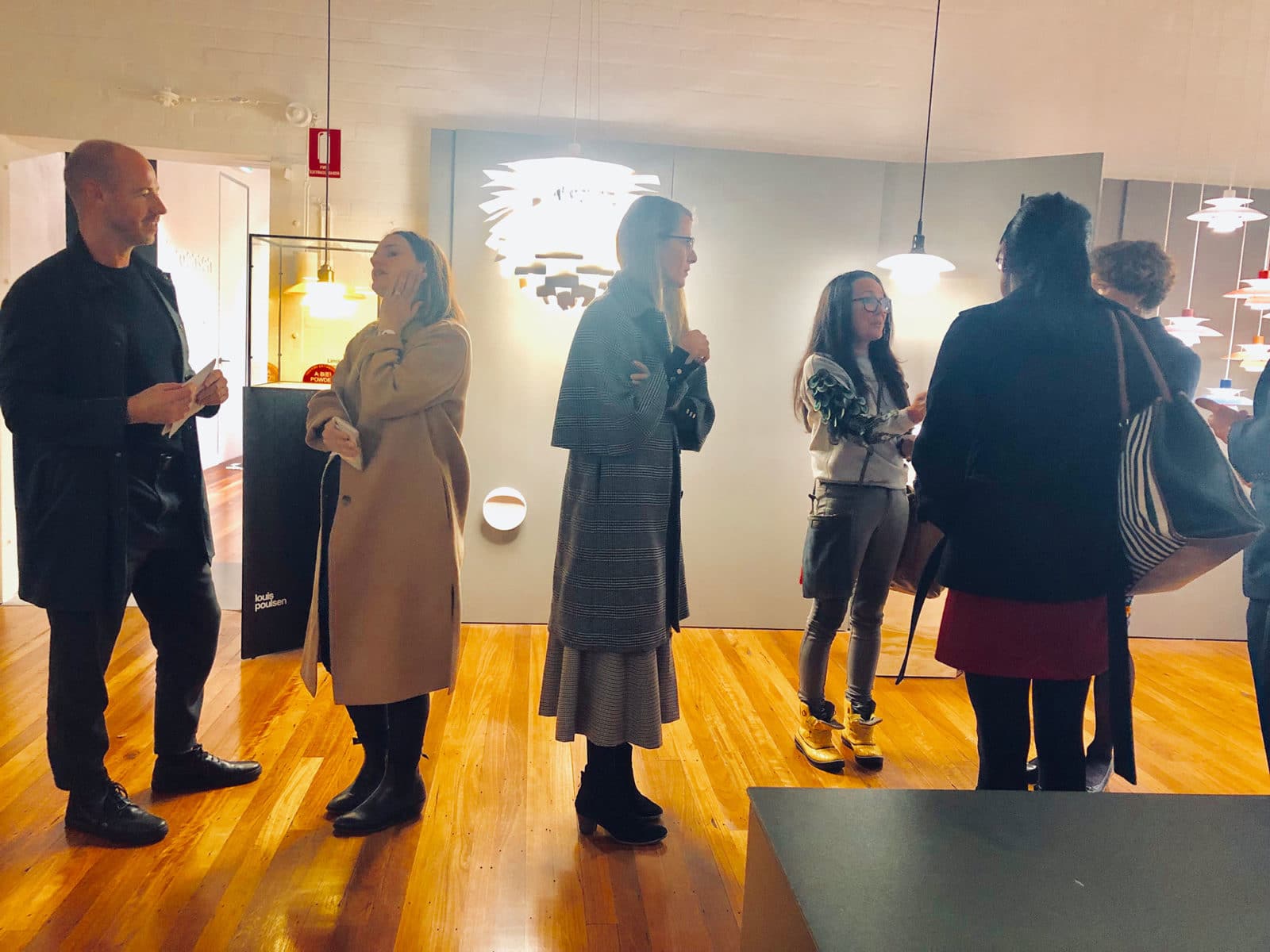 ADA Stakeholder round tables coming to Sydney/Melbourne

With stakeholder and industry consultation – we will drive a strategic campaign in partnership with ADA members and affiliates. Please contact us now if you want to contribute or join our roundtable sessions.
ESSENTIAL READING // How economic survey put 'design' on NZ political agenda   // ADA Productivity Commission campaign 2015-17
///////////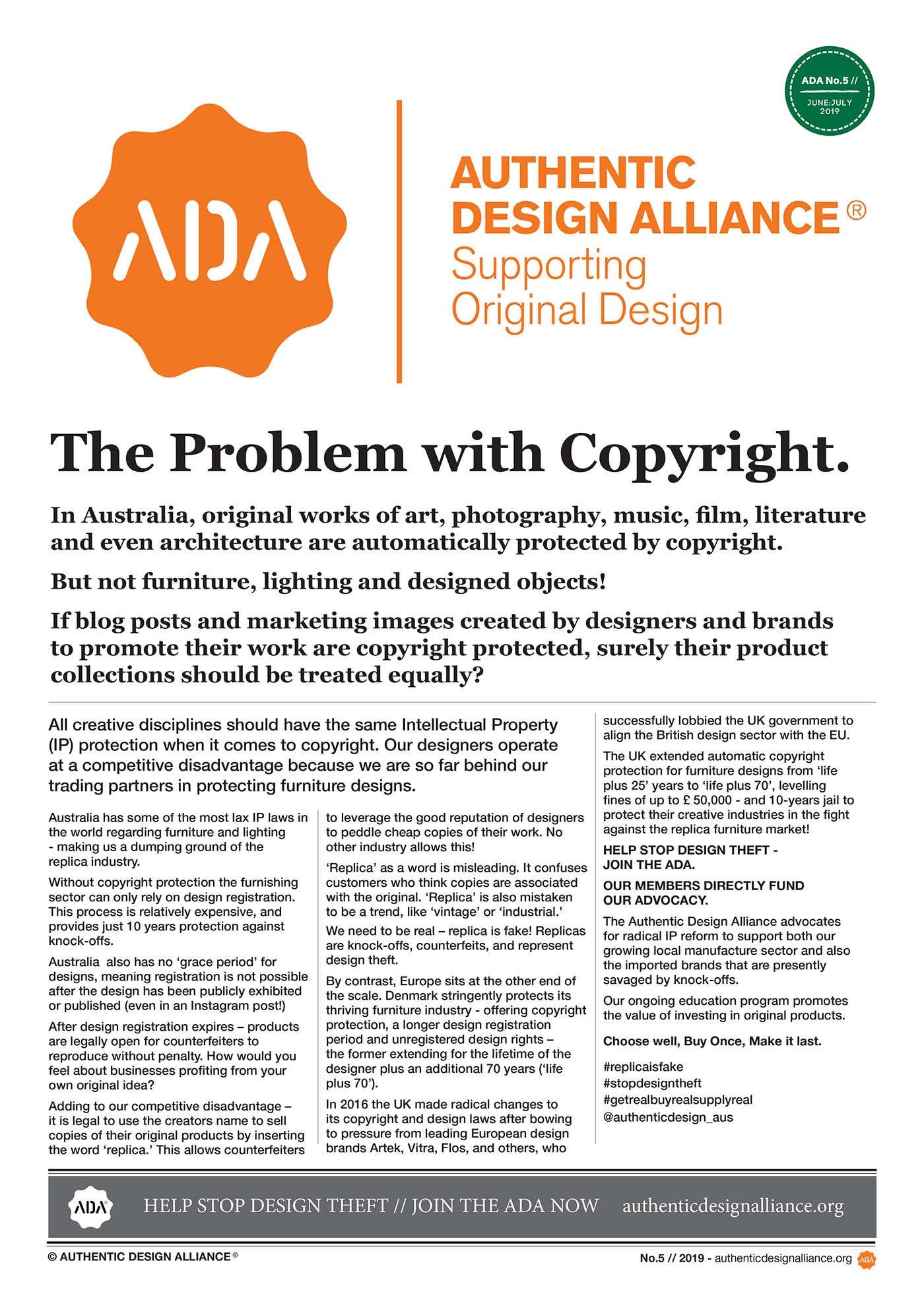 GET INVOLVED & SUPPORT OUR CAMPAIGNS FOR IP REFORM!
BECOME AN ADA® MEMBER // As a member-funded association, membership fees directly fund our advocacy, enabling the ADA change campaigns and education series.
We now need member support and industry collaboration to build a team to rollout out the key campaigns we're developing. Learn more about some of our current priorities below.
Register for ADA News + Event updates here.
Get the latest ADA News + Event updates here // Discover ADA Membership benefits here
///////////