PRODUCTIVITY COMMISSION – OUR ADA CAMPAIGN
During 2016-17 the Federal Government held an independent inquiry by the Productivity Commission (PCIP) to explore Australian Intellectual Property and Copyright protection.

The PCIP draft report (April 2016) invited written submissions by early June, with an open call for appearances at public hearings in Sydney, Canberra, Melbourne, and Brisbane. 
In what was a steep learning curve, the ADA invested 8 weeks collating 45 testimonials and case studies from a range of industry. Our aim was to show how design theft and replica furniture crushes the growth of local industry.
Our survey included case studies by industrial designers, independent design studios, furniture designers and brands, importers and distributors, manufacturers and design journalists, supported by industry associations DIA Design Institute Australia and Good Design Australia.
"The design industry should follow the music industry model, as well as the model of writing and authorship and other creative industries such as architecture, through free copyright protection"

TOMEK ARCHER, Productivity Commission hearing Canberra

The ADA presented 25 written submissions and coordinated 10 appearances at public hearings in Sydney, Canberra, and Melbourne. Our message was clear – IP protection is out of step with similar laws in the UK and now New Zealand.

As part of our campaign, representatives from Space Furniture, CULT, Top3 by Design joined designers Adam Goodrum, David Trubridge, Tomek Archer, Nick Rennie, Tom Skeehan and b, along with the DIA and Good Design Australia appearing at public hearings.

Our campaign focused on three core issues:
Criminalise replica furniture – Australia is now the dumping ground for counterfeit designer products, and the replica market is causing immeasurable damage to the growth of our industry
The word 'replica' misleads customers – the word is a loophole that endorses design theft
Design protection in Australia is inadequate – currently, registered designs can be protected for a maximum of 10 years (5+5), with no automatic copyright applied to furniture and lighting; yet in 2016 the UK joined Europe by extending copyright for the life of the designer + 70 years (life + 70), and extending design registrations to 25 years

PCIP PUBLIC HEARINGS – JUNE 2016 // transcript links below

Sydney // Authentic Design Alliance (Anne-Maree Sargeant), DIA Design Institute of Australia (Bradley Schott), SPACE Furniture (Jon Holland), CULT (Richard Munao), Tomek Archer – 

pp 226-285

Canberra // Top3 by Design (Terri Winter), Adam Goodrum. Tom Skeehan, Tom Fereday, David Trubridge, Tomek Archer –

pp 373-411

Melbourne // Nick Rennie –

pp 712-719
"Citing a lack of 'empirical evidence' that the Australian furniture industry suffers financial loss to replicas and copies the commissioners made no recommendations to outlaw replicas"
THE PCIP REPORT + WHAT HAPPENED NEXT
The Productivity Commission PCIP report was tabled in September 2016 and published by the Federal Government in December 2016, inviting public reply by February 19, 2017. 
In short – PCIP report felt that consumers have the right to a cheaper copy of an original design.
DOWNLOAD PCIP REPORT  (700 pages)
OUR RESPONSE TO THE PCIP REPORT
Helmed by Anne-Maree Sargeant, the ADA delivered a second 5,500-word rebuttal to proposed changes in February 2017.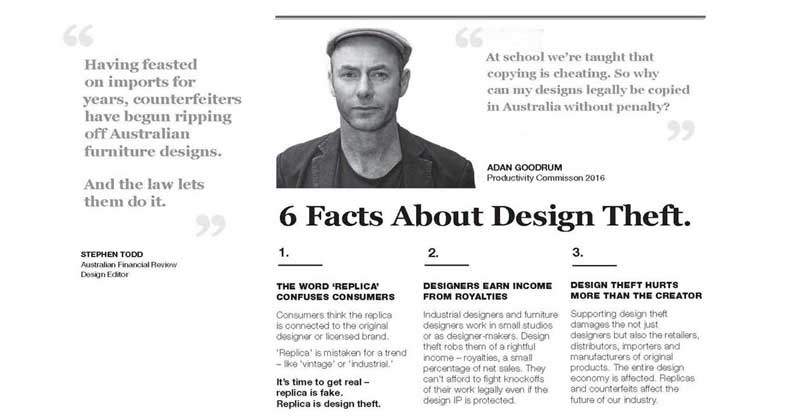 ADA PCIP CAMPAIGN INCLUDED CASE STUDIES & TESTIMONIALS FROM:
GOVERNMENT RESPONDS TO PCIP – NO MENTION OF FURNITURE SECTOR
No reference is made to the furniture design sector. And 'replica' furniture remains legal in Australia.