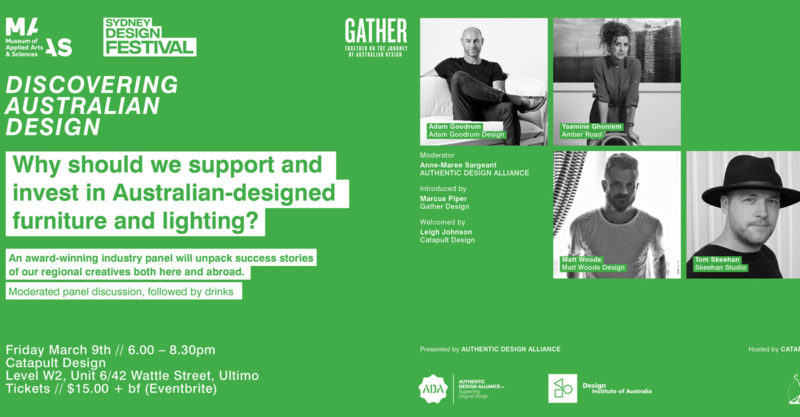 DISCOVERING AUSTRALIAN DESIGN

Created for Sydney Design Festival, presented by Authentic Design Alliance
Why should we recognize and support Australian designed furniture and lighting?
An award-winning industry panel will unpack success stories of our regional creatives both here and abroad.
WHAT // Moderated panel discussion, followed by drinks
WHEN // Friday March 9th, 6.00 – 8.30pm
WHERE // Catapult Design Level W2, Unit 6/42 Wattle Street, Ultimo
—————————————————————
Join our award-winning panel of design industry professionals for a moderated discussion, followed by drinks.
DISCOVERING AUSTRALIAN DESIGN
With the momentum created by Australian furniture, object and lighting designers both internationally and at home, we probe the many reasons why we must support, recognise and encourage this incredible talent.
Join us as we unpack the success stories of regional creatives in their quest for recognition, and ultimately commercial success.
Australian architects and interior designers now specify locally designed indoor and outdoor products for residential and hospitality projects in favour of international alternatives.
We look at what drives the shift from imports to home-grown design, and question why our industrial designers, furniture makers and craftspeople often self-invest in scoring success on the global design stage before gaining rightful acknowledgement on home turf.
—————————————————————
Welcome by LEIGH JOHNSON & AARON ZORZO Catapult Design founders
Introduction by MARCUS PIPER, gather co-founder
Panel //
ADAM GOODRUM, Adam Goodrum Design (industrial designer)
YASMINE GHONIEM, Amber Road (interior design & landscape architecture)
MATT WOODS, Killing Matt Woods (interior design)
TOM SKEEHAN, Skeehan Studio (industrial & furniture design)
Moderator //
ANNE-MAREE SARGEANT, Authentic Design Alliance
———————————————————————-
ABOUT OUR PANELISTS
ADAM GOODRUM
Industrial designer Adam Goodrum has designed products for Cappellini, Alessi, and Poltrona Frau, furniture collections for local brand Nau Design (CULT), outdoor products for Tait, and creates bespoke commissions for Broached Commissions, Veuve Clicquot, and Wallpaper* Magazine. Widely exhibited and the recipient of many significant awards, Adam lives and works in Sydney. adamgoodrum.com // @adamgoodrumstudio
AMBER ROAD, Yasmine Ghoniem
Katy Svalbe (landscape architect ) and sister Yasmine Ghoniem (interior designer) established Amber Road in 2013. Supporting local talent across residential, hospitality and commercial projects, collaboration is a cornerstone of their process, and they commission local practitioners across many aspects of their multi-award winning projects. amberroaddesign.com.au // @amberroaddesign
MATT WOODS DESIGN
With more than 30 Sydney cafes, bars and restaurants in his portfolio, Matt is renown for 'disrupting' the design scene by bucking trends and ignoring fads. Designing intelligent, functional spaces he is a staunch supporter of Australian design, educating clients to chose well, and buy once when selecting furniture and lighting and other products for projects. killingmattwoods.com // @killingmattwoods
TOM SKEEHAN
Canberra-based Tom Skeehan fuses industrial design and furniture making to produce furniture, lighting and product for commercial environments. Taking a material driven approach to ensure a long-term lifespan for each product, Skeehan Studio is hands-on self-producing collections that reside in prestigious interiors across Australia and Asia-Pacific. skeehanstudio.com // @skeehanstudio
ABOUT AUTHENTIC DESIGN ALLIANCE
ADA is a members-based education platform that spotlights the importance of investing in original design to support the creators, makers, manufacturers and distributors. The ADA program strives to shift cultural change in buyer behaviour to support authentic design, and why we must now chose well, buy once and invest in products that endure. Authenticdesignalliance.org // @authenticdesign_aus
—————————————————————
ABOUT our host Catapult Design
Established in 2013, Catapult represents a broad spectrum of high quality Australian-designed furniture, lighting and accessories for home, office and hospitality environments. Their stable includes designs by Daniel Barbera, Dowel Jones, Marz Designs, Mr Frag (to name a few of many local brands), and Catapult also produce their signature in-house label. Catapultdesign.net.au // @catapultdesignau
—————————————————————
ABOUT gather
GATHER recognizes, supports and encourages the momentum Australian furniture, object and lighting designers are creating both internationally and at home. GATHER seeks to engage the wider general public with the Australian design industry, showroom by showroom, designer by designer, and is founded by Marcus Piper and Vincent Aiello. Gatheredesign.com // @gatheredesign
—————————————————————
ABOUT Sydney Design Festival
Sydney Design Festival is one of the longest-running festivals of its kind in Australia, organized by MAAS – formerly the Powerhouse Museum. In 2018 more than 100 exhibitions and events will be held city-wide.
Sydneydesignfestival.com // @sydneydesignfestival
This event is supported by DIA NSW
---
Find more ADA News & Events