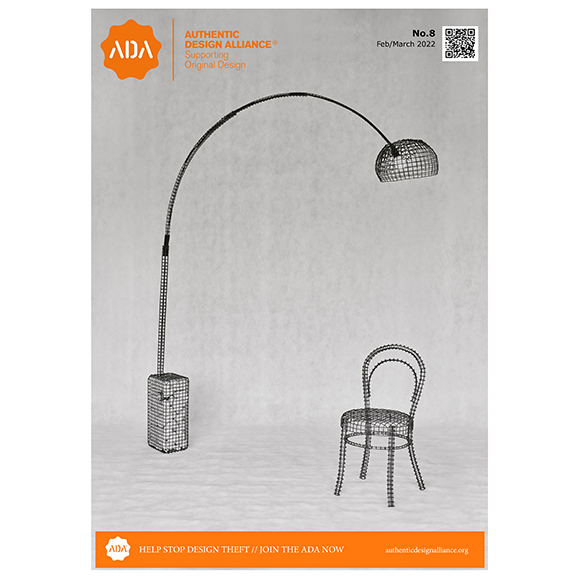 Join us at Interiors Australia – Denfair February 10-12 and Melbourne Design Week at Villa Alba Museum for FUTURES COLLECTIVE March 17-26th. 
ADA DENFAIR TALK
Our Denfair talk 'Who Turned the Lights Out' features panellists Christopher Boots, Jason Bird (luxxbox), Patrick Laurie (Euroluce) and Volker Haug, moderated by ADA director Anne-Maree Sargeant – unpacking the fallout of swapping out original lighting for knock-=offs in commercial projects. Friday, February 11,4pm – free entry with Interiors Australia I Denfair registration here.
ADA x CAGED by ASH ALLEN
FUTURES COLLECTIVE PREVIEW
Preview FUTURES COLLECTIVE at Villa Alba Museum for Melbourne Design Week. 
Spearheaded by Spence & Lyda and Fiona Lynch Office, we will join Broached Commissions, Jon Goulder, Otomys Contemporary Art, and visiting international guest, Spanish designer Alvaro Catalan De Ocon who presents Plastic Rivers for the first time in Australia.
Melbourne Design Week – full program & booking
MDW Futures Collective – full program & booking
MELBOURNE DESIGN WEEK PREVIEW
Melbourne Design Week previews include The Chairity Project by Cult with Hay, RE-cultivate by Tait; and the Australia Furniture Design Award (AFDA) at Stylecraft.
We also showcase a very special installation by Australian designer Brodie Neill who joins Living Edge to debut his new Atlas table, a project realised from reclaimed Hydrowood.
ADA AWARD WINNERS
We also feature our 2021 award winners Samuel Burns and Zachary Hanna, joint recipients of our ADA Award of Honour presented for vivid design competition in November; and the five winners of the ADA Futures Award for DESIGN FRINGE (formerly Fringe Furniture) – Kirby Burke, Marta Figueiredo, Jill Stevenson, Kathleen Prentice and Lauren Haynes.