Our 'My Milan' series dives into ADA Member experiences during April's Salone Del Mobile.
Artedomus / New Volumes creative director Thomas Coward had dual agendas – exhibiting New Volumes with LOCAL MILAN, and reconnecting with Artedomus brand partners – whilst trying to experience as many FioriSalone installations across the city as possible!
Additional text by Anne-Maree Sargeant.
How long have you attended Salone?
I've been going since 2007, and have been pretty much every year since.
What were your MDW objectives?
We were there to exhibit New Volumes No1. collection and meet with potential European distributors for the series as well as visiting Artedomus suppliers and to explore their new collections. In my spare time the priority was to see as much as I could in between!
New Discoveries?
Refinement by Agapedesign
Italian bathware brand Agape hosted two exhibitions new products by Benedini Associati, Patricia Urquiola, Marcio Kogan and Vencato Merendi.
Agapecasa 'Behind the Scenes'
The collaboration with Agapecasa and Stellar Works at Galleria Teatro Manzoni included installations referencing dramatic interpretations of theatre. Inspired by the neighbouring Teatro Manzoni, they shared a central entrance foyer which brought together the two creative concepts and beautifully showcased the Agapecasa furniture pieces.
Federica Elmo's ONDAMARMO stone
The soft hued table designed by Federica Elmo initially led viewers to perceive a series of 3-D printed objects. On closer inspection it was revealed the Roman designer had applied 3-D digital painting to Carrara Marble. Read more on the project by Bloc Studios here in FRAME Mag.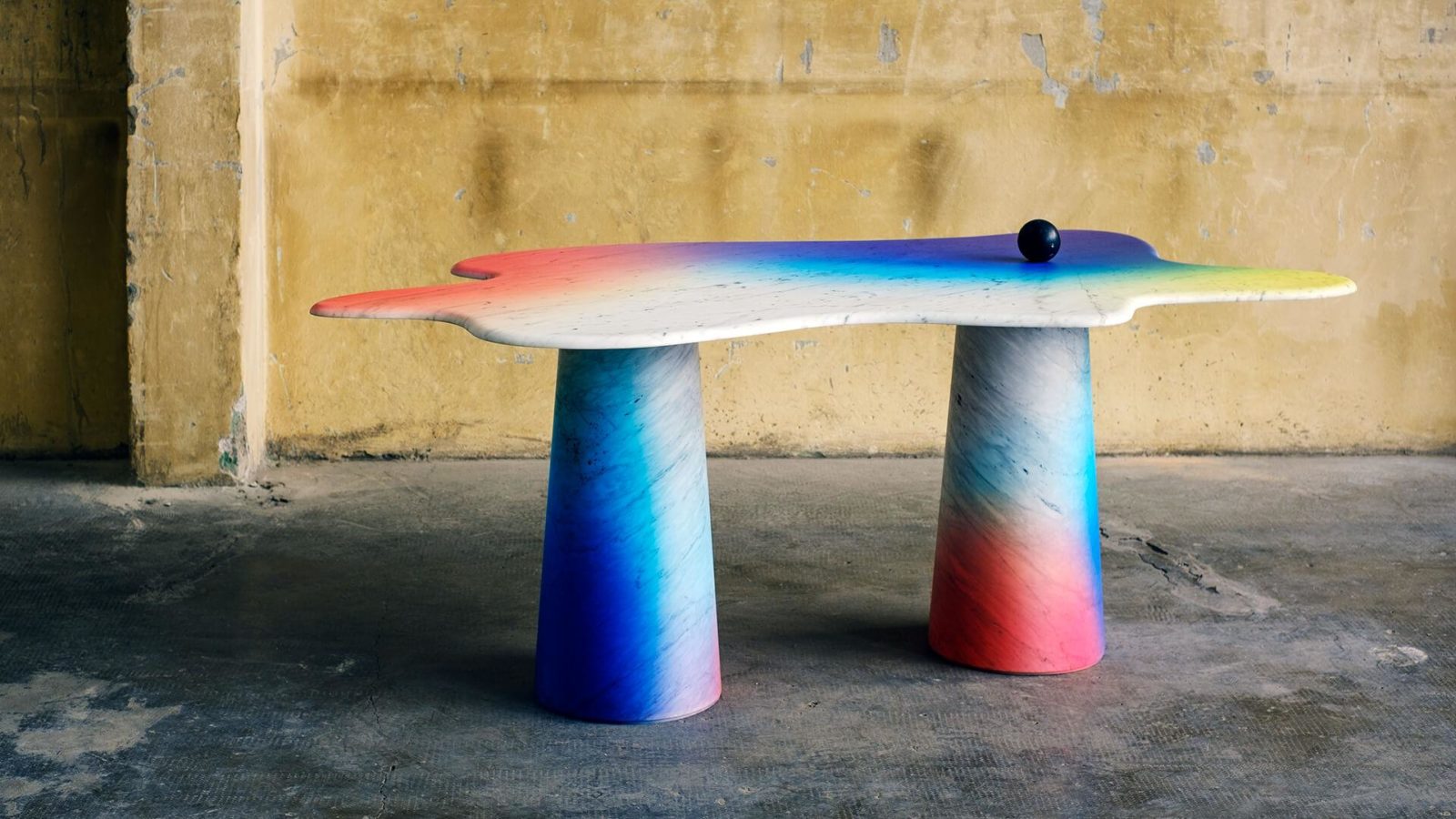 Tides by WANG & SÖDERSTRÖM
Inspired by the complex dance of gravity between the Moon, Earth and Sun that gives us tides – the immersive installation at Ventural Centrale has visitors witnessing during a low tide the water pulls away and reveals a hidden landscape of reflecting puddles and curious shapes – in a collision of sound, light and colour. More here.
BRUT Collective
Young Belgian design collective BRUT Collective drew on the rich soil of Tongeren, the location of Belgium's oldest Gallo-Roman settlement, as the material starting point for their installation.
MateriAttiva by Graniti Fiandre
Iris Ceramica Group and the young architects of SOS – School of Sustainability – working with Mario Cucinella on a project that began in Bologna with "Pollution 2018", to create the  the installation 'MateriAttiva' (Active Materials)
Housed in Brera Design District, the project answering this year's FioriSalone Theme "Design Your Life" – inviting experiments with new generation eco-active materials, and how to improve the our well-being in the spaces we inhabit while contributing to the future of the planet.
The installation recreated a cave where the intrinsic properties of materials are made visible by activating light, water and sound.
Visitors became immersed in an individual path marked by the rhythm of ceramic stalactites in an intimate atmosphere set to a sound scape of drops falling onto a thin veil of water, generating subtle light effects.
Transitioning to the second room, guests "re-emerge" from the cave to discover the social dimension the experience – the breathing of the tree that reminds us of the inspiration from the hidden mechanisms of nature living in  in harmony with it. Learn more about the high-tech ceramic group Fiandre here.
Lithos ceramic walls
This breathtaking range of Italian quarried and designed natural stone cladding is unique and beautifully sculptural, turning a simple wall into a singular design expression. More here.
MEMORABLE EXPERIENCES
The LOCAL MILAN party!!
Launching New Volumes at LOCAL MILAN
LOCAL MILAN No 4. was the largest representation of Australasian design at Milan Design Week, with 44 Australian / New Zealand designers featured.
Across ten rooms and two levels, in a palazzo formerly occupied by Diesel and Moroso, New Volumes™ pieces were integrated into the amazing rooms curated and styled by New Volumes designer Emma Elizabeth.
Read our earlier article on the New Volumes collection and how eight local designers were commissioned to create unique objects to celebrate ELBA, a marble quarried in Greece – here.
Drinks at the top of the 1st Dibs apartment.
The INAX Tile Installation
The INAX Tile Lounge exhibition invited visitors to experience the products whilst reflecting the  brand's design values and signature elements, which convey Japanese aesthetics in a contemporary style. Explore Inax here.
3 trends we won't be able to ignore
"Social media = trend 1,2 & 3!!

It's changed everything (for better & worse)…. "
The experience of seeing the same things on social feeds in real-time whilst personally experiencing IRL meant social streams were like a live feed.
I think the personal connections one makes are becoming more important to me than seeing the work – as that experience can't be replicated.
Designers are definitely considering this with their work as shown here
"….cameras out, take a photo, move on….."
Your no. 1 unmissable installation
Nilufar Depot installation.
Best thing that had nothing to do with design
Seeing Australian based friends on the other side of the world. It's always a fun adventure.
Pro tip on post Milan recuperation?
Lake Como for 3 or 4 days of rest. Absolutely beautiful.
On an unlimited budget you would return home with …….
No jet leg.
///////////////////////////////////
IMAGES // Courtesy of Artedomus and New Volumes.
LOCAL MILAN images by Fiona Susanto
newvolumes.com // artedomus.com
///////////////////////////////////
Want to help stop design theft?
ARTEDOMUS and New Volumes support the AUTHENTIC DESIGN ALLIANCE as Platinum Members. If you are keen to get involved – please support the ADA by becoming a financial member!
ADA Members fund our advocacy for IP law overhaul and education about the damage the replica industry does to the future development of original design in Australia.
Individual Memberships for industry professionals are $198 annually or ADA Supporters can help at just $77.00 per year.
Bronze Business Memberships start from $990 – and premium Members actively contribute to our strategy.
ADA GOLD & PLATINUM Member logos feature on our home page and in all of our publications.
Learn more about membership benefits HERE (on desktop / laptop) or HERE if on device.
/////////////////////////
STAY INFORMED
Download the latest AUTHENTIC DESIGN ALLIANCE Newspaper here.
Read more about why we exist and what we do in this great interview
/////////////////////////
For more information on supporting the ADA please send us a message!