Stepping behind the scenes of this year's Milan Design Week we've asked ADA Members to share their inside tips and experiences from the 56th edition of Salone del Mobile in our My Milan series.

James Marshall joined the Christopher Boots team as they showcased installations at Fiorisalone in three locations in central Milan. Based in Los Angeles, James has been with the brand since it launched in Melbourne in 2012, and heads up CB USA.

Additional text edited by Anne-Maree Sargeant.
Is this your first Salone?
Personally this year was my second Salone, but the third year Christopher Boots has exhibited during Milan Design Week. It was the first year that Christopher Boots presented outside of a larger group show, so an important milestone for the company. // JLM
Who did you travel with?
Christopher Boots and our International Sales Manager Lena Kamysheva//JLM
What were your MDW objectives?

Our main objectives were to present a series of new artist pieces and products at our exhibition TROVE at Spazio RT (that also showcased Lost Profile Studio); with LOCAL MILAN No.4, a group show presenting work by 44 Australian designers; and a masterwork cabinet at Spazio Rossana Orlandi.
"I like the way the unexpected opens the mind. In a way, the formal arrangement of the materials was dictated by the material itself"

Christopher Boots
Milan Design Week is a great opportunity for us to physically reconnect with our international clients who all converge in the city albeit for a frantic few days. I'm happy to say that we had a great response for the new works, and it's always a pleasure to share an espresso and discuss future projects with clients that we might only see once or twice a year. // JLM
Read more about Christopher's design process and the thinking behind his Milan collections in THIS Architectural Digest article.
Lapis was once mined from the mountainous outcrops of Afghanistan and traded to Egypt, where it supplied royalty with the blues still adorning ritual objects like Tutankhamun's funerary mask
NEW DISCOVERIES
Catalana lobster salad at Trattoria Del Pescatore
Established in 1976 the famed Milanese seafood restaurant now also boasts a Hong Kong outpost. Housed near the arches of Porto Romana, design week visitors are advised to book in advance (especially on weekends!).
trattoriadelpescatore.it // AMS

Massimo De Carlo's restoration of Piero Portaluppi's Casa Corbellini-Wassermann (1934-36)

The 1930's mansion has been transformed into the base for MDC Gallery by art dealer Massimo De Carlo. Wuth the apartment unoccupied for 15 years, a 3 year renovation undetaken by lead architect Lorenzo Bini (Studio Bonocle) in consultation with Antonio Citterio.
Casa Corbellini-Wassermann was created around the same time as Villa Necchi-Campiglio (1932–1935), but the apartment building differed as it was designed for today's Città Studi district (at the time, on the outskirts of the city) for a middle-class family of pharmaceutical entrepreneurs. // AMS

Read more on MDC Gallery at Domus Web here & Elle Decor here
Slowing down in the gardens at the Four Seasons Hotel
A 15th-century convent has been transformed into a sophisticated garden retreat now the Four Seasons Hotel Milano, an unexpected haven in the centre of Milan's Fashion District. Exiting from the narrow cobbled Via Gesu, the hotel entrance is typically lined with Ferraris and Lamborghinis, with the main accomodation and dining facilities wrapped around a central, manicured courtyard garden.
Guest suites feature frescoes on high-ceilings and visitors can enjoy tea in the marbled main foyer or the glazed atrium dining room. The hotel underwent major renovation in 2014, featuring the spectacular vaulted ceilings in the hotel SPA designed by Patricia Urquiola. Read more about the hotel renovation in Wallpaper Magazine here // AMS
Laboratorio Paravicini
In the early 90's Costanza Paravicini wanted to create plates and tableware using traditional, time-honoured techniques that are handmade but suitable for everyday use. Applying a decoration technique is called Gran Fuoco sulla Terraglia Bianca (high temperature gloss-firing on white eartherware): the underglaze decorations are bright, indelible and non-toxic. All products are for sale, coveted by well healed global travellers. // AMS

Explore the bespoke room settings and plate lined walls HERE and head to the online shop paravicini.it
Bagatti Valsecchi Museum
The Bagatti Valsecchi Museum is a historic house museum showcasing the extraordinary collecting experience of two brothers, each room revealing the lifestyle and decor
In the 1880s Barons Fausto and Giuseppe Bagatti Valsecchi began refurbishing the family home, a mansion nestled in the center of what is now Milan's fashion quarter. Inspired by sixteenth century Lombard mansions, they also began collecting fifteenth and sixteenth century paintings and decorative arts.
Museo Bagatti is an impeccably preserved 19th Century Milanese mansion where visitors step back in time, transported whilst traversing corridors and grandoise room brimming with 16th Century armour through to 18th Century decorative arts and furnishings.
The family continued to live in the mansion until 1974 that later opened to the public as Bagatti Valsecchi Museum in 1994 – one of Europe's best preserved historic house museums and one of the first grand expressions of Milanese design. Explore the spectacular rooms of the Museum here – museobagattivalsecchi.org // AMS
MEMORABLE EXPERIENCES

Bethan Laura Wood at Nilufar Gallery
British designer Bethan Laura Wood burst onto the global design scene soon after launching her eponymous brand in 2009. Recipient of the prestigious 2013 Designer of the Year Award, the colourful designer is a walking design installation from her trademark makeup to bespoke fashion creations. nilufar.com //  AMS

"Ask anyone in town for Salone del Mobile, and they will tell you that Nina Yashar's Nilufar Gallery is a must-see stop on the design week trail." Wallpaper
"The designer has worked closely with Nilufar Gallery since 2011, producing limited edition and one-off works and has collaborated with a number of international brands including Moroso, cc-tapis, Abet Laminati, Kvadrat, Valextra, Tory Burch, Hermés, Tolix and Bitossi Ceramiche. Her work has been exhibited in institutions such as the V&A Museum of Childhood, Tokyo's Museum of Contemporary Art and the Swiss Institute in New York." (Dezeen)
Read more on the installation in Wallpaper Magazine or this Dezeen article or visit bethanlaurawood.com
Linda Tegg's installation for Jil Sander
"Mosses and succulents, blackberries, blue pimpernels, common chickweeds, geraniums, high mallows, ivy, ribwort plantains, scutch grasses and wild sages are just a few of the spontaneous species that Linda Tegg and garden-designer Matteo Foschi sourced from fields in and around the city of Milan. adjacent field, the living installation at MDW is an ephemeral stem — a stem of what Linda Tegg conceived with Lucie and Luke Meier for spaces inside Jil Sander's headquarters." designboom

Read more at Wallpaper Mag
Jennifer Guidi at Massimo De Carlo Gallery
The art gallery Massimo De Carlo, Belgioioso, Milan hosted a solo exhibition by Jennifer Guidi. Born in 1972, the artist lives and works in Los Angeles. // AMS

Volker Haug vs John Hogan
International lighting design Volker Haug Studio is based in Melbourne and presented for the first time as "solo exhibition" with a limited edition lighting installation created in collaboration with the American designer John Hogan dedicated to the exploration of glass and its interactions with the light.
Dimorestudio takeover of Cinema Arti
"loud rock music, strobe lights and metallic objects set the dramatic mood for dimoremilano's debut exhibition 'interstellar'"
"Visitors entered the exhibition via leopard print carpet leading to the lit-up stage displaying the collection. Flowing coral curtains contrast with the sharp, shiny objects that fill up the platform. the silk curtains divide the space into four areas – office, living room, dining room and a bedroom, having each 'room' showcase the firm's creations in their fullest splendor.
The dark color palette, illuminated by strong lights that highlight the collection's cold materials such as aluminum, lacquers, brushed and polished steel, and bronze and laminated surfaces. "

3 trends we won't be able to ignore
"A return to nature, maximalism and sustainability" JLM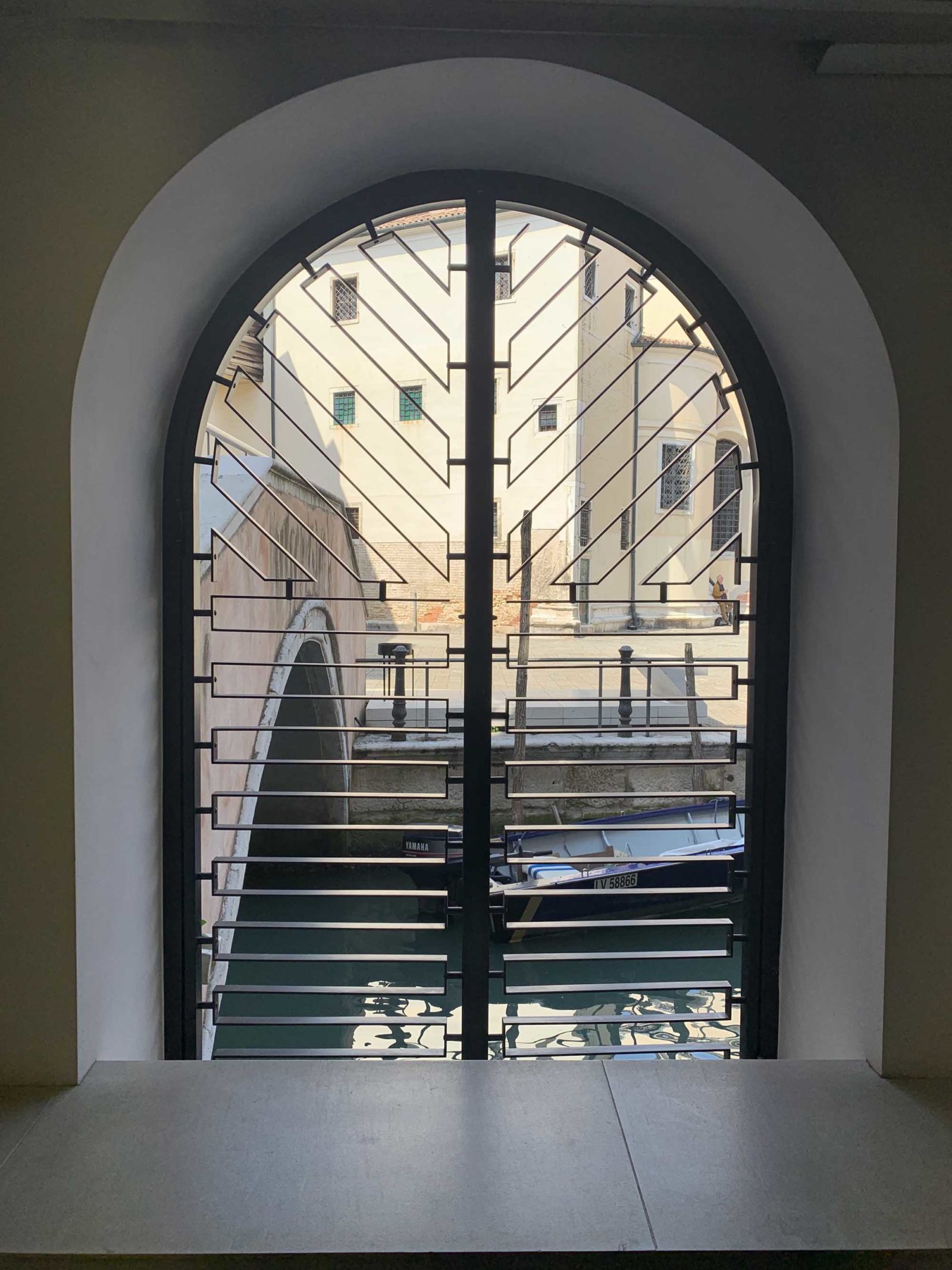 Scarpa wing at Fondazione Querini Stampalia
Most memorable installation / meal / purchase
A set of hand painted plates I purchased from Laboratorio Paravicini.
Best thing that had nothing to do with design
The outdoor spa situated amongst Roman Ruins at QC Terme. Soaking in the moonlight after a long week has become somewhat of a ritual for us in Milan.
Pro tips on post Milan recuperation?
Lake Como is the obvious escape but this year I made my way to Venice to max out on Carlo Scarpa's architectural genius, basking in Turner-esque sun over the Grand Canal, whilst indulgin in yet another Aperol Spritz for good measure!
On an unlimited budget you would return home with …….
A palazzo in the heart of Milan. I'm not fussy 😉
///////////////////////////////////
PHOTOGRAPHY CREDITS //
Location images by James L Marshall, Product images by Guy Laviopierre, TROVE exhibition images by Paola Pansini and JLM Portrait by Coco&Maximillion and Bethan Laura Wood image by Anne-Maree Sargeant (Designer of the Year awards 2016)
///////////////////////////////////
Want to help stop design theft?
Christopher Boots is an AUTHENTIC DESIGN ALLIANCE Gold Member and passionate supporter of protecting design IP. If you are keen to get involved – please support the ADA by becoming a financial member!
ADA Members fund our advocacy for IP law overhaul and education about the damage the replica industry does to the future development of original design in Australia.
Individual Memberships for industry professionals are $198 annually or ADA Supporters can help at just $77.00 per year.
Bronze Business Memberships start from $990 – and premium Members actively contribute to our strategy.
ADA GOLD & PLATINUM Member logos feature on our home page and in all of our publications.
Learn more about membership benefits HERE (on desktop / laptop) or HERE if on device.
/////////////////////////
STAY INFORMED
Download the latest AUTHENTIC DESIGN ALLIANCE Newspaper here.
Read more about why we exist and what we do in this great interview
/////////////////////////
/////////////////////////
Any questions – please get in touch!