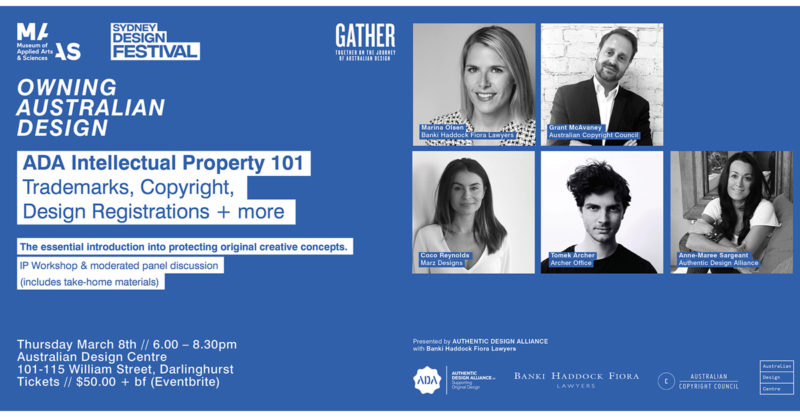 Intellectual Property (IP) unpacked. Trade Marks, Copyright, Design Registrations + more. The essential introduction into protecting original creative concepts.
Created for Sydney Design Festival, presented by Authentic Design Alliance in partnership with Banki Haddock & Fiora Lawyers
OWNING AUSTRALIAN DESIGN // ADA IP Workshop 101
WHAT //IP workshop & moderated panel
WHEN // Thursday March 8th, 6.00 – 8.30pm
WHERE // Australian Design Centre, 101 – 115 William Street, Darlinghurst
TICKETS // $50.00 + bf – Eventbrite [includes take home materials]
—————————————————————————————
Introduction by MARCUS PIPER, gather co-founder
Panel //
MARINA OLSEN, Banki Haddock Fiora Lawyers
GRANT McAVANEY, Australian Copyright Council CEO
COCO REYNOLDS, Marz Designs (industrial, furniture, lighting & object designer)
TOMEK ARCHER, Archer Office (architect, furniture & object designer)
Moderator //
ANNE-MAREE SARGEANT, Authentic Design Alliance
—————————————————————————————
ABOUT OUR PANELISTS
MARINA OLSEN, Banki Haddock Fiora Lawyers

As senior associate at Banki Haddock Fiora, Marina Olsen is experienced in all aspects of IP law, advising on commercial agreements including IP assignments and licenses, brand protection and privacy law. A particular interest in the furniture, lighting and fashion design has made Marina a specialist in the laws protecting creative industries. bhf.com.au
GRANT McAVANEY, Australian Copyright Council CEO
Grant McAvaney joins ACC following six years with the Australian Broadcasting Corporation, where he oversaw Disputes & Litigation practice. As a passionate advocate for the rights of all creators, Grant is active across the intellectual property profession, including lecturing media law to university students. copyright.org.au
COCO REYNOLDS, Marz Designs
Industrial Designer Coco Reynolds leads Sydney studio Marz Designs. Harnessing cues from design and architecture movements of the 50s and 60s, has evolved a contemporary aesthetic favouring natural materials and simple, beautiful silhouettes. Passionate about the making process, Coco finds joy manipulating materials in a way that promotes craft practice in collaboration with industry. marzdesigns.com // @marzdesigns
TOMEK ARCHER, Archer Office
Recipient of SOYA Award for architecture and interiors, Tomek's Campfire table launched at Milan Design Week 2012 for Roethlisberger, the table listed by AFR magazine in top 20 Australian designs of all time, alongside the Holden Monaro. Archer Office joined the Wallpaper**magazine Architects Directory in 2016 as one of 20 emerging practices to watch from around the world, Archer Office since winning awards from AIA NSW and DIA Interior Design Awards. archeroffice.com // @archeroffice
—————————————————————————————
ABOUT AUTHENTIC DESIGN ALLIANCE

TM
ADA is a members-based education platform that spotlights the importance of investing in original design to support the creators, makers, manufacturers and distributors. The ADA program strives to shift cultural change in buyer behaviour to support authentic design, and why we must now chose well, buy once and invest in products that endure. Authenticdesignalliance.org // @authenticdesign_aus
—————————————————————————————
ABOUT BANKI HADDOCK FIORA Lawyers

ADA legal partners Banki Haddock Fiora established the ADA business structure, actioned Trademarks, Business registrations, and were hands-on with our campaign during Productivity Commission 2016-17. The boutique Sydney-based commercial law firm specialises in copyright, trademark, design patents, media law and IT, commercial transactions and disputes in these practice areas. bhf.com.au
—————————————————————————————
ABOUT THE AUSTRALIAN COPYRIGHT COUNCIL
AUTHENTIC DESIGN ALLIANCE is proudly affiliated with the Australian Copyright Council. ACC is an independent, non-profit organisation representing 25 peak bodies for professional artists, designers and content creators working in Australia's creative industries and major copyright collecting societies. ACC supports creative Australia by promoting the benefit of copyright for common good. copyright.org.au
—————————————————————————————
ABOUT our host AUSTRALIAN DESIGN CENTRE

The Australian Design Centre is a leading Australian leading arts organisation dedicated exclusive to design and contemporary craft. Supporting the power of design in innovations and craft through exhibitions, events, education programs and digital platforms. australiandesigncentre.com.au // @australiandesigncentre
—————————————————————————————
ABOUT gather
GATHER is an independent platform created to recognize, support and encourage the momentum Australian furniture, object and lighting designers are creating both internationally and at home. GATHER seeks to engage the wider general public with the Australian design industry, showroom by showroom, designer by designer, and is founded by Marcus Piper and Vincent Aiello. Gatheredesign.com // @gatheredesign
—————————————————————————————
ABOUT Sydney Design Festival
Sydney Design Festival is one of the longest-running festivals of its kind in Australia, organized by MAAS – formerly the Powerhouse Museum. In 2018 more than 100 exhibitions and events will be held city-wide.
Sydneydesignfestival.com // @sydneydesignfestival
This event is supported by DIA NSW
—————————————————————————————
JOIN THE AUTHENTIC DESIGN ALLIANCE & help stop design theft // INFO HERE
(c) authenticdesignalliance.org
---
Find out more news & events