Join the Authentic Design Alliance or renew your membership before December 31st and receive extra benefits!
We're set for a massive 2019 ahead of the new campaign for IP change in Australia and the launch of our new platform, so we're offering special upgrade packages for a very limited time.
As an independent association of like-minded design practitioners, industry professionals, and brands committed to eradicating design theft in Australia, we rely on membership fees to directly fund our activity.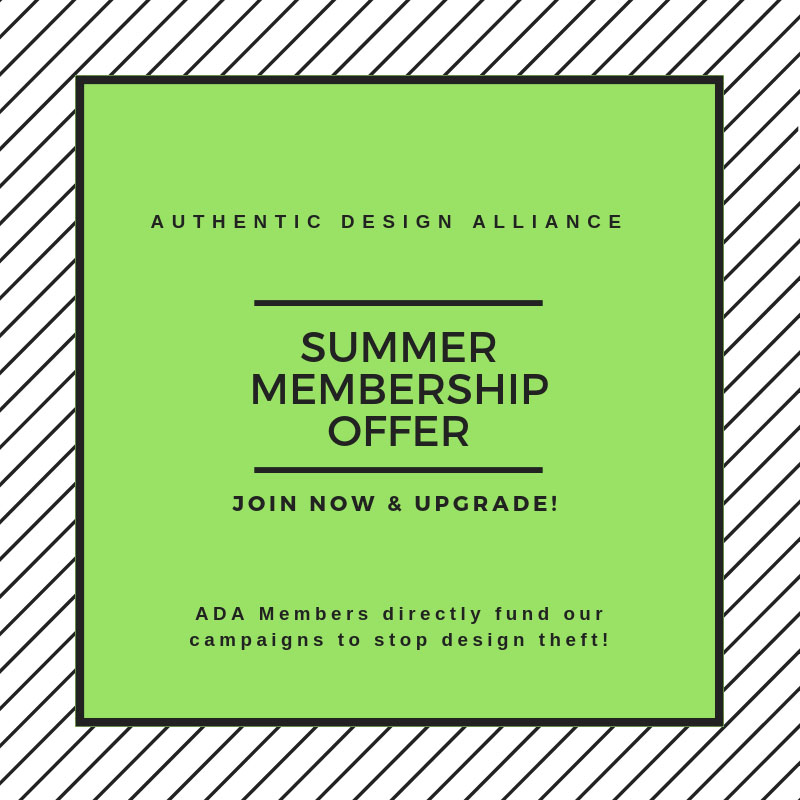 SPECIAL UPGRADE OFFER
Individuals ($198 pa) and Bronze business memberships ($990 pa) will be extended from 12 to 15 months - that's 3 additional months for no extra charge, saving $50 and $330.
Or take advantage of our Gold for Silver package!
Become a Silver Member for $2,200 and get an instant upgrade to Gold Member, saving $1,100 with the added bonus of becoming a Premium member and enjoy greater visibility across our programs.
Meet some of our Premium Members below - or see the full list of ADA MEMBERS.
/////////////////////////////
PLATINUM MEMBERSHIP  $5,000+gst // full strength support for less than the cost of 1 page magazine advertisement - Join here
GOLD MEMBERSHIP            $3,300+gst // cheaper than 2 coffees per week! Join here
SILVER MEMBERSHIP         $2,000 +gst // help stop design theft for just $5 a day - Join here

BRONZE MEMBERSHIP      $ 900+gst // that's less than $2.50 a day! - Join here

/////////////////////////////
PERSONAL MEMBERSHIPS
INDIVIDUAL   $180+gst // sign me up now! Join here

SUPPORTER   $70+gst // design-loving consumer - Join here

/////////////////////////////
PREMIUM MEMBER BENEFITS
Gold and Platinum Member logos feature on our home page, as well as in ADA Tabloid newspapers with 20,000 newspapers distributed annually via our members showroom networks and affiliate partners.
All Premium Members will automatically receive a complimentary top-tier listing in the new ADA platform set to launch early 2019.
Want to know more? Get in touch! We're happy to meet or speak about our exciting plans that unveil very soon.
/////////////////////////////

/////////////////////////////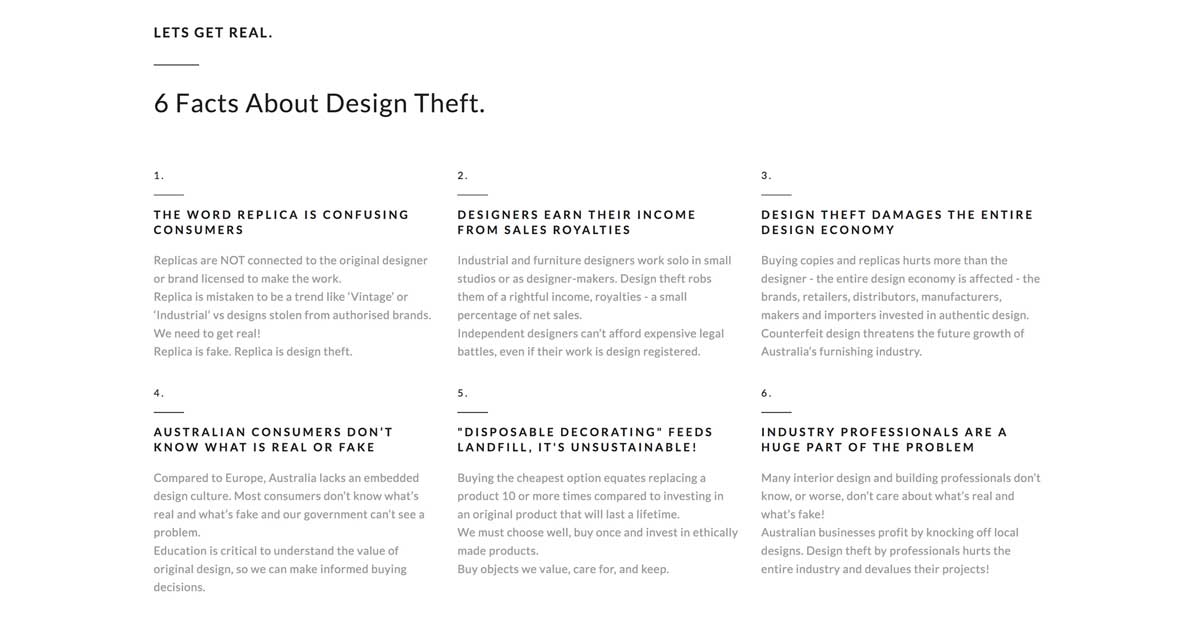 /////////////////////////////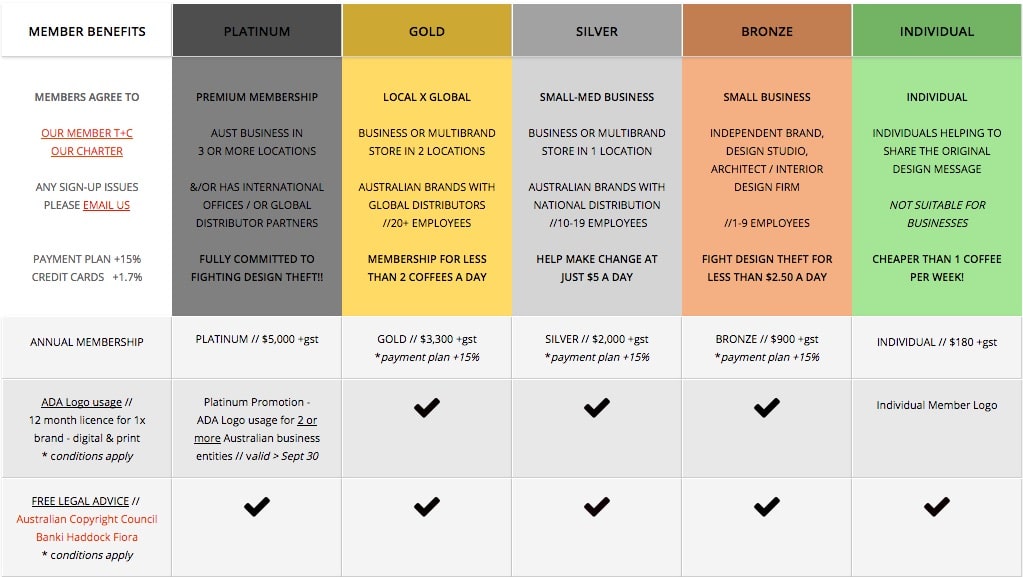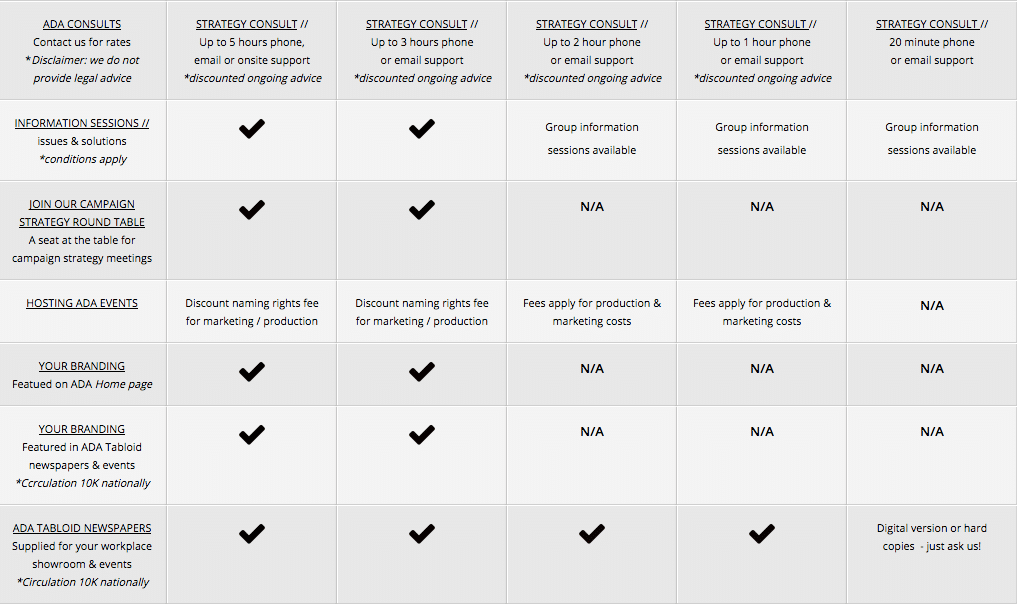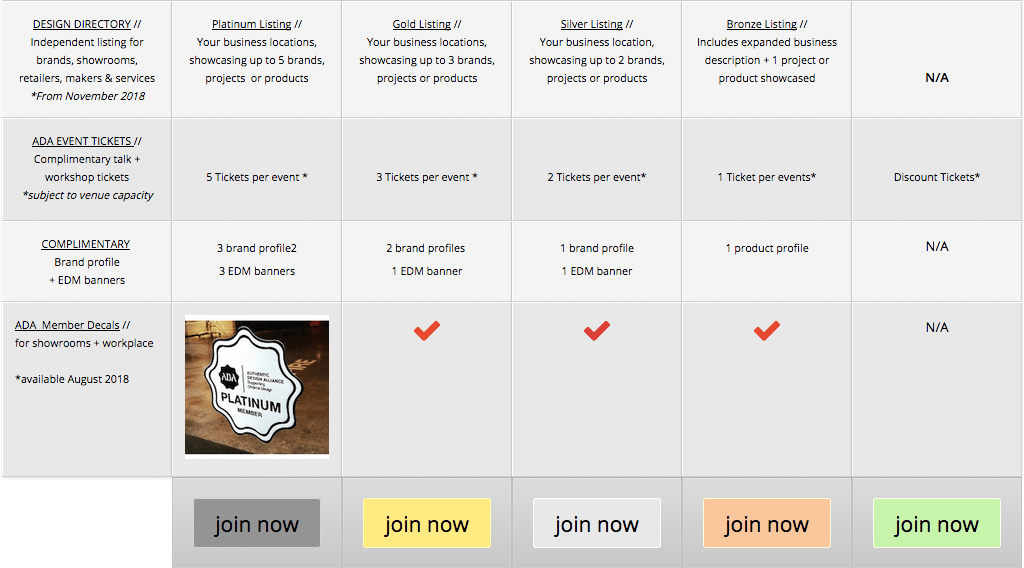 ALREADY A MEMBER? RENEW NOW AND UPGRADE!
The committed support of our members help us deliver 30 annual talks at our 8 partner Festivals and trade events, publish ADA Tabloids (20,000 distributed nationally) and connect with other organisations to expand the network.
Members renewing pre December 24 will receive either an extended membership for no additional charge or an immediate upgrade - terms subject to their existing member tier.
REFER A FRIEND or COLLEAGUE AND UPGRADE
Everyone recommending a friend or colleague to take up this offer also receives added benefits not only for themselves, but also their valued design supporter - win-win!
////////////////////////////////////////
DOWNLOAD OUR NEWSPAPER
Download our latest ADA Tabloid - and stay informed.
////////////////////////////////////////
QUESTIONS? PLEASE CONTACT US!