Retailer ALDI Australia advertised a near identical product to one created by the Melbourne-based brand Miss Glass Home.
The story then went viral as social media feeds lit up with many views on the growing problem of big business knocking-off original work by independent design brands and local creators.
ROBBED ON HOME TURF
These David vs Goliath scenarios underpin how inadequate Australian Intellectual Property (IP) protection for furniture, lighting and designed-objects not only leaves designers at risk to counterfeiters, but their also their manufacturers, distributors and retailers lose out as well!
ALDI featured a product by Siobhan Glass aka MISS GLASS HOME as a prop in a catalogue photo shoot last September. Back then, ALDI customers via Facebook wanted to purchase the towel rack, i.e. thinking styling prop used to hold advertised bath towels shown was for sale.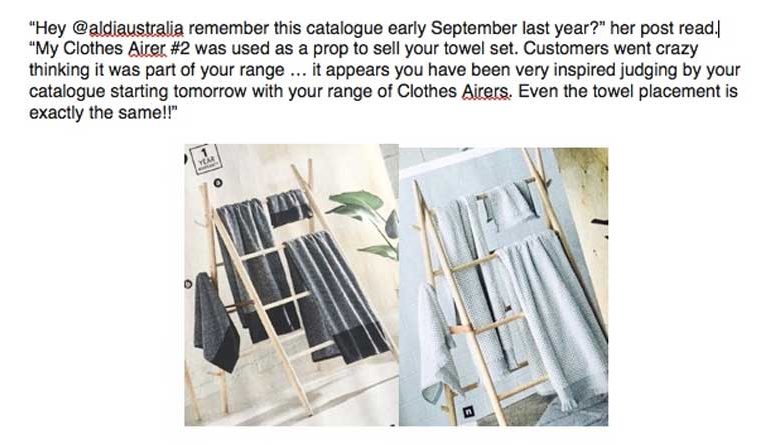 IMAGE // @missglasshome Instagram
"Make your own towel rack but don't take the unique details away from a small Melbourne furniture designer like me. There's room for us all to run our businesses without having to step on each other toes."

Miss Glass Home, Instagram
MISS GLASS HOME
The unfortunate incident unravelled 10 days ago when ALDI online announced catalogue specials for the following week that included a $69.00 clothes airer.
Prior to the episode going viral, we spoke with Siobhan who was understandably devastated that her only collection had been so blatantly knocked-off.
Miss Glass explained to us that the MGH brand ethos centred on ethical, sustainable products and the clothes airer was their first foray into furniture design.  The pieces were not registered with IP Australia and with the products already shown across social media, there was no possibility to register the designs by that stage.

IMAGE // @missglasshome Instagram
ALDI TIMBER STOOL RECALL
Fast-forward to Wednesday July 11. ALDI catalogues land on doorsteps around Australia, timed with a product recall via the ALDI Facebook Page for a stool shown in the same image as the clothes rack.
Online comments suggested the advertised stool resembled product from another furniture retailer. What followed lead to cut/paste online reporting with Aldi customers wanting the timber stool questioning why some stools were allegedly removed from shopping trolleys at the checkout. read Aldi FB stream if you have time to burn.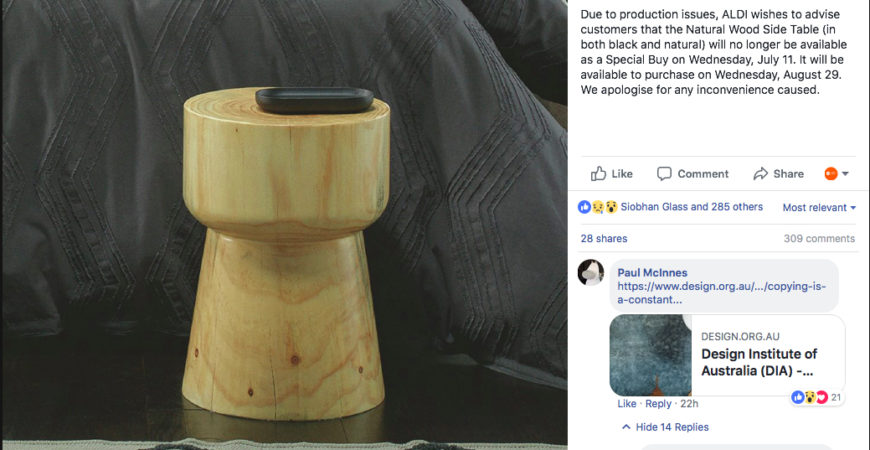 Whilst the stool recall was initially due to 'production issues,' ALDI went on to say via Facebook  'the production issue is in relation to Australian Quarantine, the product needs to undergo further treatment before it is sold in ALDI stores.' ALDI confirmed the timber stool will be advertised again August 29.
So recall no more!
"Spare a thought for (us) creative small businesses who rely heavily on a small range of products to pay our rent and put food on the table for our families. You know we can't compete with you and this is exactly why you do it."

Miss Glass Home, Instagram
IMAGE // @missglasshome supplied
WHEN DESIGNERS LOSE TO DESIGN LAWS
Miss Glass Home supporters commented mainly about inadequate Copyright protection – which in other territories like UK or even New Zealand – potentially could be adequate protection to stop design theft in this instance.
Anyone associated with creating, making and distributing the original product loses out not only financially, but all suffer reputation damage when customers mistake inferior copies for the authentic product.
PURCHASE THE ORIGINAL CLOTHES AIRER DIRECT
Design-lovers can purchase an original airer by MISS GLASS HOME direct – $329+ postage
"Having feasted on imports for years, counterfeiters now knock-off Australian designs. And the law lets them do it."

Stephen Todd, AFR Mag report on Authentic Design Alliance
LEARN MORE
Read more here on the DIA Design Institute Australia statement last week and reportage from NEWS.com.au, and more here on how Aldi customers are frustrated by being 'baited' by the 'special buy' advertising techniques
++++++++++++++++++++++++++++++++++
READ More Case Studies // The Building Industry Problem – taking original furniture specs and swapping out for offshore knock-offs of local designs
Have you read our new ADA Tabloid Newspaper? // read or download
Want more news, events or ADA Membership offers?
Want to help? // Discover ADA Membership benefits – our members directly fund our campaigns.
++++++++++++++++++++++++++++++++++
SUBMIT CASE STUDY
Contribute to our industry survey by submitting a case study and help us understand the breadth of the problems surrounding design theft in Australia.
We are currently researching the scope of design theft and industry input is welcomed. Case studies can be anonymous or specific.
Later this year we will announce an industry-wide survey as part of our campaign for improved Intellectual Property (IP) protection.