What happens when credible studios or makers unwittingly accept a commission to produce what they believe to be original work only to later discover the project is a knock-off?
Hot off the heels of the scenario last week when the original products specified for a publicised hospitality project were replaced by cheap offshore knock-offs, a local maker now has been alerted via social media that their recent project was in fact a copy of a piece by another designer.
DESIGNER-MAKERS & AUTHENTICITY

With designer-makers and master craftspeople becoming increasingly more influential within the traditional furniture manufacture landscape, many come to the industry from a non-traditional, often self-taught background. In other cases, industrial or other trained designers hone making skills and helm small-batch manufacturing.
These independent studios uphold originality, quality and careful / thoughtful fabrication process and material selection as core to their ethos.
So if the designer-maker community embodies authenticity – why do customers take advantage of this?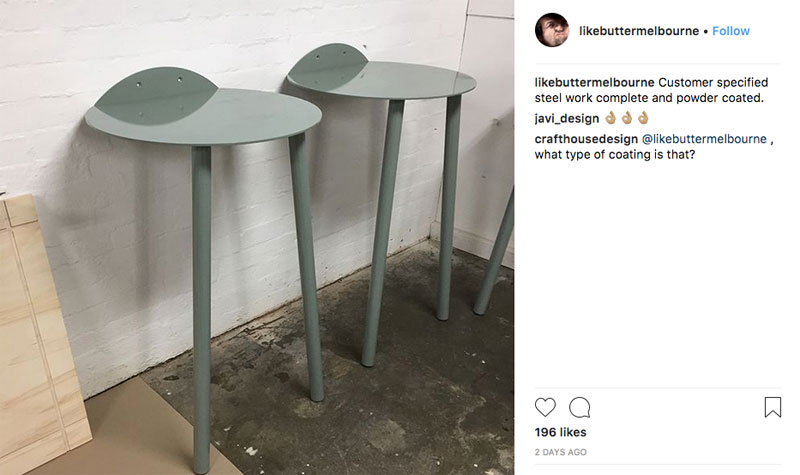 Image: Instagram
LIKE BUTTER MELBOURNE

Melbourne studio Like Butter are not just liked by their peers. They are genuinely loved!
Industrial designer Jem Selig Freeman and sculptor Laura Woodward founded their brand in 2007 and have forged a deserved following for handcrafting furniture commissions for clients as well as producing their own designs.
Like most independent studios, LB have a solid social media following with strong audience engagement, and comment stream conversations represent connected voices from across the local design and making spectrum.
So if the designer-maker community embodies authenticity – why do customers take advantage of this?
WHAT HAPPENED NEXT
This week the studio posted an image of custom furniture made for a client commission and commentors were quick to ask details about the powder coat finishing technique and generally compliment fabrication quality.
When well-meaning authentic design supporters flagged a near exact product by Taiwanese designer Kenyon Yeh, we contacted Like Butter who were swift to respond publicly, clearly stating the brand's commitment to originality and encouraging designers to educate clients about the importance of supporting authenticity.
Owning the scenario with a public statement was applauded by followers.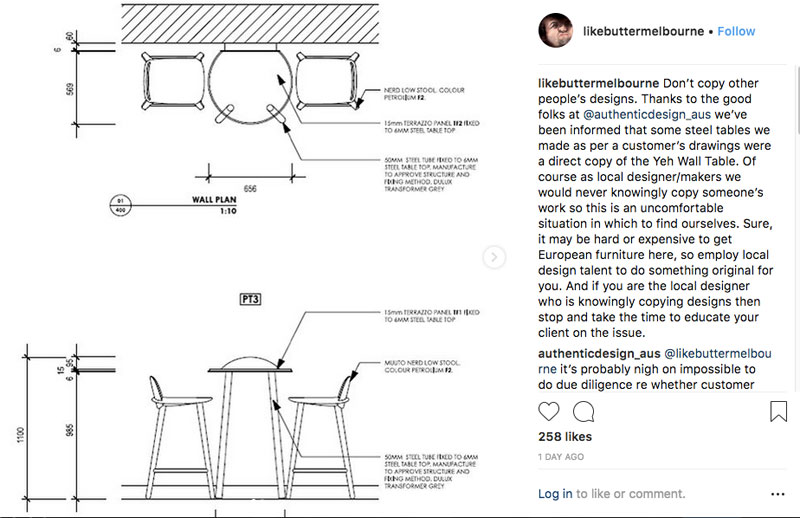 Image: Instagram
REPUTATION DAMAGE IS REAL
Too frequently, independent studios are asked to replicate original work by others, and it would be almost nigh on impossible for all makers to do due diligence on every specification they are asked to quote, so unfortunately, instances like this leaves a quality maker open to reputation damage.
The ethics of the new-maker-generation stand diametrically opposed to knock-offs, and despite this, they are unfairly put at risk by unscrupulous interior specifiers who knowingly propose non-original work as a customised furniture and lighting commission.
What's the solution?
Like Butter will now update their Terms of Trade to include a clause mainly for their own protection, telling us also "this is a good reminder to up the ante with checking designs that are sent to us."
Is adding a clause to quotations and supply contracts a solution?

A brand statement that upholds authenticity and opposes copy cat designs?
Follow @likebuttermelbourne or visit likebutter.com.au
++++++++++++++++++++++++++++++++++
READ More Case Studies // The Building Industry Problem – taking original furniture specs and swapping out for offshore knock-offs of local designs
Have you read our new ADA Tabloid Newspaper? // read or download
Want more news, events or ADA Membership offers?
Want to help? // Discover ADA Membership benefits – our members directly fund our campaigns.
++++++++++++++++++++++++++++++++++
SUBMIT CASE STUDY
Contribute to our industry survey by submitting a case study and help us understand the breadth of the problems surrounding design theft in Australia.
We are currently researching the scope of design theft and industry input is welcomed. Case studies can be anonymous or specific.
Later this year we will announce an industry-wide survey as part of our campaign for improved Intellectual Property (IP) protection.