The ADA 2018 event calendar was cemented by expanded affiliations with Sydney Design Festival (MAAS Powerhouse Museum), Design Canberra and the Australian Design Centre with Sydney Craft Week.
We joined the program once again during Melbourne Design Week, and went on tour with Studio Truly Truly with events in Melbourne, Sydney and Brisbane with Cafe Culture+Insitu.

8 Festivals, 5 Industry Fairs/Events – 25 Talks, 10 Workshops, 3 key-notes speeches, 1 Tedx pitch & more!

Strategic partnerships are important to us. Ongoing support from leading industry events such as DENFAIR help us spread our campaign message. This year DEN hosted our OWNING AUSTRALIAN DESIGN talks, supported by Australian Copyright Council, our awesome legal partners Banki Haddock Fiora and our good friend David Trubridge, enabling us to further connect with key industry professionals.

Melbourne Fringe Furniture joined vivid design competition, expanding our Authentic Design Alliance Award Partnerships. Outstanding emerging talent at both events were recipients of ADA memberships and gained valuable feedback from our high-profile judging panels.
Among our many achievements in 2018 was nailing the 4-year strategy with Decor+Design to eradicate replicas and knock offs from the design exhibition – 1 year ahead of plan – BOOM!!
ADA 2018 // In a snapshot
FEBRUARY // TEDxSydney Pitch
Starting the year on a high, ADA director Anne-Maree Sargeant was selected for TEDxSydney Pitch series.
It's time to end Fast Design questioned why consumers are more emotionally invested in ethical fashion and moving towards sustainable food choices, yet not making considered decisions around meaningful home furnishings.
Honing the importance of the products and objects in our homes, things we most frequently engage with compared to personal fashion items, and how consumers overlook the huge problem of landfill. Landfill caused by the culture of 'disposable decorating.'
Nineteen presenters delivered a series of fast paced, high-octane three-minute pitches to a packed room. The experience most definitely fast tracking how to communicate big ideas fast.
We will introduce 'how to pitch' workshops in our 2019 programming. Much can be gained from honing presentation and pitch skills – so watch this space!
MARCH // Sydney Design Festival x Melbourne Design Week
Discovering Australian Design (talks) and Owning Australian Design (Workshops) appeared during Sydney Design Festival and Melbourne Design Week in March.
Christopher Boots hosted our event, and joined Sydney sculptor Dion Horstmans, architect Pascale Gomes McNabb and curator / creative director Lou Weis in a moderated discussion to a packed house of 150 guests.
As we forge our Australian design identity, we explored the by-product of the current boom in luxury residential, hospitality and development projects that has created new opportunities for artists and designers as the thirst for unique, commissioned, and one-off works is now defining public and private spaces.
The moderated discussion looked to how architecture, interior design, industrial design, sculpture, and gallery level commissions now intersect for the boom in one-off works that contribute to our cultural design DNA.
Christopher Boots again renewed ADA Gold membership and we're incredibly grateful for the studio's unwavering support for our events and campaigns.
MARCH APRIL MAY // IP Australia Forum, Create NSW / Creative Victoria think tanks

Much of our activity involves research, attending workshops, seminars and forums, and participating in think tanks.
As State Governments navigate the landscape of how to best support the creative economy, we were invited to join innovation panels and think tanks run by Create NSW and Creative Victoria.
We also attended IP workshops series run by Australian Copyright Council and IP Australia's nationwide IP forum designed to connect small business with Asia.
Around 25% of our time is invested in actively connecting with organisations and government bodies to explore opportunities and find collaborators who can advise, support &/or connect with our campaigns.
The National Design Summit was held at MAAS (Powerhouse Museum) during Sydney Design Festival, attended by industry leaders to probe strategies to get Federal Government support for the Australian design economy.
Chaired by Tim Horton (NSW Architects Registrar Board) – the forum explored how New Zealand design advocates successfully leveraged the design sector onto policy agendas. As the New Zealand approach was unpacked it became apparent it is a logical starting point for Australia. Read the full review here.
"Australia is punching above its weight in design enterprise and professional services, yet despite sustained calls from the industry for a design policy suited to the 21st century, Australia lags behind its regional neighbours and global competitors when it comes to Government support, strategy and funding"
Presentations by the AUSTRALIAN Design Alliance [AdA], the DIA and the New Zealand academics that helmed changes in NZ design policy revealed an interesting path forward.
Adopting the New Zealand model for surveying the economic contribution of design to the Australian economy is a serious undertaking. The NZ contingent raised $125K NZ to engage PWC to survey their design economy. Add to that an estimated $150K for managing the project – at best it would take $250,000 AUD to adopt this approach.
Once we take advice from ADA Stakeholders and Affiliates and other associations early next year we'll investigate the logistics (and funding) required to initiate a similar survey. Better still – we could agitate for Federal support, but based on our Productivity Commission PCIP experience in 2015-17, 'design' is a long, long way from joining Federal Government policy.
JUNE // DENFAIR, then on tour with Studio Truly Truly

Our third collaboration with DENFAIR included the distribution of our ADA Tabloids to the 7,500 event visitors. Den generously hosted our ADA IP panel discussions featuring Australian Copyright Council CEO Grant McAvaney, legal expert Marina Olsen from Banki Haddock Fiora, and world renown lighting designer David Trubridge.
"That's what Truly Truly is all about – making sure that it is authentic and that it is not lying about stuff" JOEL BOOY

Also in June, we went on tour. Moderating an insightful series with Netherlands-based Australians Kate and Joel Booy of Studio Truly Truly, hosted by ADA Platinum member Cafe Culture+Insitu in Melbourne, Sydney and Brisbane.
Exploring the TYPOLOGY lighting project with Rakumba, Kate and Joel lifted the lid on their design process, earlier projects and how they overcame the tyranny of distance executing a project in Australia whilst based in Europe.
Kate and Joel Booy studied and worked in graphic design but felt something missing and were lured by 3D creative expression. When Joel was accepted to study at the esteemed Design Academy Eindhoven they relocated from Brisbane to The Netherlands where they're currently based.
The graduation exhibition, a central focus of Dutch Design Week, caught the attention of IKEA PS, who worked with the studio on a textile collection and commissioned pieces released in Australia earlier this year.
JULY // D+D x ADA work towards no fake design in the exhibition
ADA Awards at vivid design competition
Authentic Design Alliance has worked closely with Decor+Design over the past three years, collaborating to eradicate copies and replicas from their trade event.
Many of the 350 exhibitors at the show were not aware some exhibited products were knock offs of original designs and the organisers implemented an exhibitor clause prohibiting copies from being shown.
D+D, co-located with Australian International Furniture Fair (AIFF), rose to the challenge and a four-year plan devised in collaboration with event director Chris May.
"Among our many achievements in 2018 – nailing the 4-year strategy with Decor+Design to eradicate replicas and knock offs from the design exhibition 1 year ahead of plan was a coup – BOOM!!"
The astounding outcome was actually delivered a year ahead of schedule!! Read more from D+D on how the ADA helped them 'Fight the Fakes!'
At the July event, attended by 11,500 interior professionals, we were thrilled to see the expansive exhibition devoid of copies.
Full points to the D+D team for raising the bar on their event and working with the ADA to fight fakes and remove them from their platform entirely!! Read more about the collaboration here.
As part a sponsor of vivid design competition, Australia's longest running emerging design platform and a D+D highlight, we presented our second AUTHENTIC DESIGN ALLIANCE Award of Merit / vivid.
Melbourne industrial designer, and self-taught craftsman Marinos Drakopoulos aka MARINO MADE received 2-year ADA Bronze membership for the exceptionally executed JAMES Chair.
Our judges Miriam Fanning (MIM DESIGN), Jan Henderson (NICHE MEDIA) and Richard Munao (CULT) were so impressed with the high calibre of the exhibition, honorable mentions were also awarded to Canberra-based FURNISHED FOREVER and Jam Factory alumni Dean Toepfer. Both studios received 12 month ADA Bronze Business membership and continue to collaborate with us to expand their distribution network.
JULY + AUGUST // Website re-launch x ADA helping designer makers

It's a lot of work and we're very lucky to have such incredible digital and design support from our expanded team who are on call 24/7 behind the scenes. Anyone who's built, maintained and run a website knows what's involved. And how the many unexpected glitches and curve balls that arise without warning – but we got there!
We also work closely with independent designers, designer-makers and brands re strategies when they learn their products have been knocked off.
Or in the case of Melbourne studio Like Butter – when we alerted them to that the project an interior designer had commissioned them was actually a copy of an existing work by an independent Japanese designer.
Melbourne-based Miss Glass House was horrified to learn the Aldi supermarket chain copied her only furniture product. That case went viral, and spotlights how many designers and makers know nothing about design registrations, assuming their designs are automatically protected by copyright.
Read all about LIKE BUTTER here and Aldi x MISS GLASS HOME here
Learn more about automatic copyright, and how it extends to other creative disciplines but not furniture, lighting and designed objects.
That same month an industry publication featured a story that showcased building industry professionals bragging about the aim of skimping on project budgets but still giving the impression double that budget was spent.
Our inbox imploded with frustrated industry professionals sharing case studies of design firms discovering that during their project timeline, the original products specified were ultimately swapped out for copies or direct knock offs. Read the full story here.
"It is depressing to hear that even big budget venues are party to this. I get wanting to lower your budget etc but if you go to the trouble of having a local designer or brand do the hard work of designing something at least have the decency to honour them for their talent and not take it offshore, ripping their IP in the process" @annettebrooker
SEPTEMBER // Melbourne Fringe Furniture Festival
Melbourne Fringe partnered with the Naomi Milgrom Foundation for Fringe Furniture 32 – the 32nd edition of the independent local showcase of designers and makers.
Spotlighting gender equality, the mandate was to encourage and increase female, female identifying and non-binary entrants by offering a 15.6% discount on entry fee – an amount reflecting the industry gender pay gap.
As part of the initiative the program invited ADA director Anne-Maree Sargeant to present a key-note talk on the role of women in the design industry and a reflection the career path, obstacles and points worth noting as a female in design.
"We're preoccupied with the processes of materials and making, and explore ideas through teaching. The work exhibited at Fringe was produced by students over one semester"

Adam Markowitz Ex-Lab, Melb. University
The inaugural Authentic Design Alliance Award of Merit // Melbourne Fringe. Judged by Jon Holland (Space Furniture), Thomas Coward (New Volumes / Artedomus) and Marnie Hammond (Cafe Culture+Insitu) – the unanimous decision awarded Melbourne Uni's Cheng-yue Jia for Origami Lounger.
Chin is part of Ex-Lab, the Melbourne Uni studio exploring materiality run by Adam Markowitz and Jaz Johnson. Read more about the exhibition here.
OCTOBER // ADA x Flos with Michael Anastassidiades
ADA co-founders and Platinum members Euroluce partnered with FLOS bringing globally lauded London-based Cypriot designer Michael Ansassidiades to Sydney and Melbourne.
The Euroluce Light Studios in both cities were disassembled to showcase a Milan Design Week worthy installations of  Jewel after jewels after jewels modular lighting that launched in Milan last April.
Michael delivered inspired talks, sharing highlights of is illustrious career, at RMIT in Melbourne and Sydney Museum ahead of gala events at Euroluce light studios. Read more here.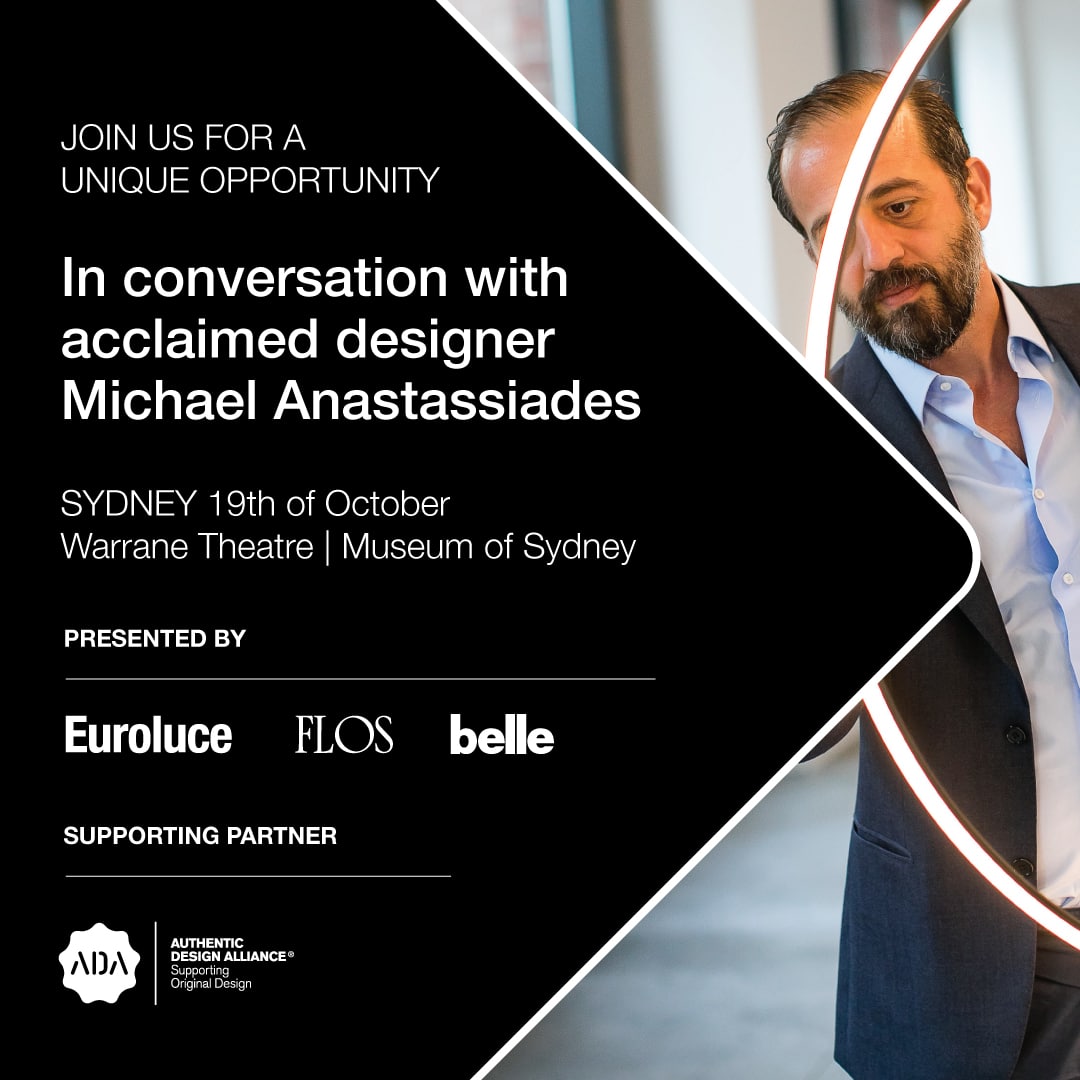 NOVEMBER // ADA HOME.GOWN. at Canberra Design Festival

In our final event series for the year we joined Design Canberra Festival, with our HOME.GROWN. series that spotlights the rising currency of Made In Australia. Adam Goodrum and Adam Cornish were joined by Canberran Christina Bricknell in two events supported by ADA members designcraft, Cult / Nau Design and TAIT.
Read more about the discussion here – and the event transcript and recording will be released early next year.
DECEMBER // locking down our 2019 program
As the industry slows down after a hectic year ahead of a well-earned holiday break, we still have our foot firmly on the pedal locking in our 2019 program, to be announced in January.
We have forged new partnerships (more on that soon) and have bolstered our existing affiliations to extend collaborative support for our core mission – education about original design and advocacy agitating for improved IP protection for the sector.
"A successful product employs a network.

 A successful collection creates a sub-economy"

AMS, AUTHENTIC DESIGN ALLIANCE

Following the UK and New Zealand examples – where affecting change was a long slow burn – but they got there – informs our strategic plan as we buckle in, and remain committed to the end goal.
Our good friends at the Australian Copyright Council are supporting us on strategy. It's a big call and we're prepped to launch a national petition during 2019. Again – more on that very soon.
Finally – we're poised to announce our 2019 ADA Design Ambassadors and our Advisory Board, both announcements forthcoming in January, along with our program for Sydney Design Festival and Melbourne Design Week, both events in March.
SUPPORT US // ALREADY AN ADA MEMBER? RENEW NOW AND UPGRADE!
The committed support of our members help us deliver 30 annual talks at our 8 partner Festivals and trade events, publish ADA Tabloids (20,000 distributed nationally) and connect with other organisations to expand the network.
Members renewing pre December 31st will receive either an extended membership for no additional charge or an immediate upgrade – terms subject to their existing member tier.
REFER A FRIEND or COLLEAGUE AND UPGRADE
Everyone recommending a friend or colleague to take up this offer also receives added benefits not only for themselves, but also their valued design supporter – win-win!
DISCOVER MEMBERSHIP BENEFITS

Enable ADA campaigns by becoming a member – memberships directly fund our education and advocacy.
Discover what membership is right for me – HERE (on desktop / laptop) or HERE if on device
Or contact us for more info